AFL 2022 Round 11 LIVE updates: Martin, Rioli help Tigers to lead over Swans as Pickett, Blakey go out late due to illness
We're sorry, this feature is currently unavailable. We're working to restore it. Please try again later.
Loading
Maurice Rioli Jnr with some brilliance
Maurice Rioli Jnr was given the task of winning the footy near goals with two Swans in the contest and he came up tops tapping the ball away from the marking contest and following it into space where he picked up the footy and snapped a goal.
He looks more and more dangerous with each week he plays in the AFL. That is seven-straight goals for Richmond and it has been more than 30 minutes since Sydney kicked a major.
Tigers 56, Swans 23 with six mins to go in Q2.
Make that six for the Tigers
Shane Edwards has kicked his second goal and made it six-straight majors for the Tigers as Sydney continue to be punished for poor use of the ball.
The Swans need to do something here or the game could be gone by half-time.
Tigers 50, Swans 23 with 11 mins to go in Q2.
Richmond has kicked five goals in a row with Jack Riewoldt doing the finishing work after some excellent lead-up work starting with Robbie Tarrant's interception in defence.
Riewoldt marked 40m out from goal and converted, even if his kick was a little close to the left post.
Tigers 43, Swans 23 with 12 mins to go in Q2.
Graham's tackle, goal gives Tigers a boost
Jack Graham has pulled in a powerful tackle on debutant Matt Roberts who was put in a horrible position by his teammates as they tried to run the ball out of defence.
Graham received a free kick for holding the ball 25m from goal and he converted the kick.
Tigers 36, Swans 22 with 16 mins to go in Q2.
QT: Richmond 5.0 (30) to Sydney 3.4 (22)
The Swans started strongly but Richmond finished that first term with the game and tempo under their control.
The Tigers are seeing their prime movers push the ball forwards and having excellent two-way play from Daniel Rioli who is rebounding from defence and also kicked a goal.
Two majors from Hugo Ralphsmith was another highlight, the Swans need to find the footy and make better choices when running into attack.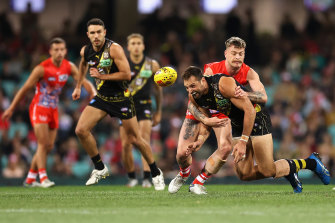 Edwards kicks goal from nothing
Tigers veteran Shane Edwards has come up with a vital goal and he created it from nothing.
With the ball handballed out of a pack and Swans players swarming, Edwards caught the ball and had almost no time to snap but got the ball to boot with it rolling into goal.
Tigers 30, Swans 21 with 90 seconds left in Q1.
Daniel Rioli has drifted down from defence and come up with a mark after a pass from Shai Bolton.
Rioli steadied himself and nailed the set shot, the Swans will have to match for him trying this again.
Tigers 24, Swans 21 with six mins to go in Q1.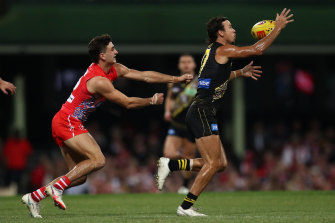 The man with a long name and a long mullet is carving up for the Tigers with Hugo Ralphsmith kicking his second goal moments ago.
Hayward dragged him down by the shoulders as he tried to run into the forward 50m arch and he went back, ran around and booted a goal from outside 50m.
Swans 21, Tigers 18 with seven mins to go in Q1.
The Swans wasted no time responding to the Tigers pushing the ball forward and having Will Hayward run onto a bouncing ball and snap a goal.
The Tigers can't afford to let teams surge forward so quickly.
Swans 21, Tigers 12 with eight mins to go in Q1.
Dustin Martin has taken a mark on the 50m line for the Tigers and instead of going back for a set shot has played on and goaled on the run from just inside the 50m arc.
He has been up and about early winning a few rushed possessions but that time he gave his club a much-needed goal.
Swans 15, Tigers 12 with 9 mins to go in Q1.