AFL 2022 round 13 LIVE updates: 'We want him doing what he does best': Nat Fyfe to start on ball as Dockers take on Hawks
We're sorry, this feature is currently unavailable. We're working to restore it. Please try again later.
Loading
Lachie Schultz has shown his usual cool, calm finishing skills to kick a low grubber kick under a Hawks defender and through for a goal.
Hawks 44, Dockers 39 with 10 mins until half-time.
Liam Shiels won a dubious free kick on the edge of the goalsquare and has taken full advantage to see his Hawks to a 10-point lead.
Brandon Walker very briefly had a hand on Shiels' shoulder as he attempted to lead out, the home fans are fuming and have rained boos down on the officials.
But the Hawks are making their own luck with tireless tackling and pressure.
Hawks 43, Dockers 33 with 13 mins to go in Q2.
Dylan Moore has kicked his second goal flying for a mark and then converting his set shot.
The Hawks have kicked all five of their set shots, they do have a behind after an errant snap for goal.
Hawks 37, Dockers 33 with 17 mins to go in Q2.
Young Docker Brandon Walker has kicked his first goal in AFL footy pushing forward and collecting a handball and converting on the run.
He was mobbed by his mates. A lovely moment for another impressive youngster in purple.
Dockers 33, Hawks 31 with 18 mins to go in Q2.
QT: Hawthorn 5.0 (30) to Fremantle 4.3 (27)
By

Roy Ward
Hawthorn has a well-deserved lead heading into the second term as they have pressured relentlessly and forced some painful turnovers from the Dockers.
The Hawks have also kicked a perfect five goals from five attempts although Freo has been very efficient in their own forward 50m, when they have been able to get the ball forward.
Local fans rage but Wingard puts Hawks back on top
Chad Wingard has played on and kicked a goal after his Hawks forced yet another turnover in their attacking 50m arc.
The local fans are furious about something booing as Wingard sprinted into an open goal but the Hawks have been outstanding in how hard they are working and pressuring.
Hawks 30, Dockers 26.
Dockers handball to the goals
The Dockers used a chain of handballs to work themselves to the goalsquare with Fyfe finding Lachie Schultz who booted a goal from close range.
This has been a cracking opening term.
Dockers 26, Hawks 24 with two mins to go in Q1.
Hawks a perfect four from four kicking for goal
Dylan Moore has kicked the fourth-straight set-shot goal for the Hawks to open this match.
This has been a superb effort from the Hawks so far and they have been perfect in front of goal.
Hawks 24, Dockers 19 with five mins to go in Q1.
The Dockers have snatched back the lead just seconds after the Hawks dragged themselves back in front.
Serong won the ball at the centre-bounce and sent it forward where Lobb knocked it down and Bailey Banfield picked up the crumbs and snapped a goal.
Dockers 19, Hawks 18 with eight mins to go in Q1.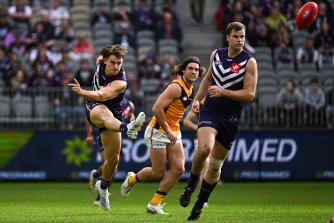 O'Meara puts Hawks in front
Jaeger O'Meara has kicked Hawthorn's third-straight goal and given the visitors their first lead of the day.
This is a very desperate, pressuring Hawks performance so far.
Hawks 18, Dockers 13 with nine mins to go in Q1.