AFL 2022 round 23 LIVE updates: Suns burst Roos bubble after Clarkson signing; Cats, Eagles prepare to face off
We're sorry, this feature is currently unavailable. We're working to restore it. Please try again later.
Loading
Fyfe runs off after nasty fall
Dockers star Nat Fyfe has struggled with injuries throughout this year but hopefully he has avoided one after a nasty fall onto his back during a marking contest.
Fyfe looked a little proppy on his feet but then jogged off where he is now on the bench.
The Dockers will need his talents in the finals.
Giants 55, Dockers 50 with two mins to go in Q3.
Pearce kicks a team-lifter
Fremantle defender Alex Pearce has kicked his first goal of the year to tie the scores.
Pearce was mobbed by his teammates as he didn't look super confident of converting his kick.
Nat Fyfe has just missed a set shot to briefly put the Dockers up but now Jesse Hogan has kicked his third goal to get the Giants back in front.
Giants 53, Dockers 48 with 10 mins to go in Q3.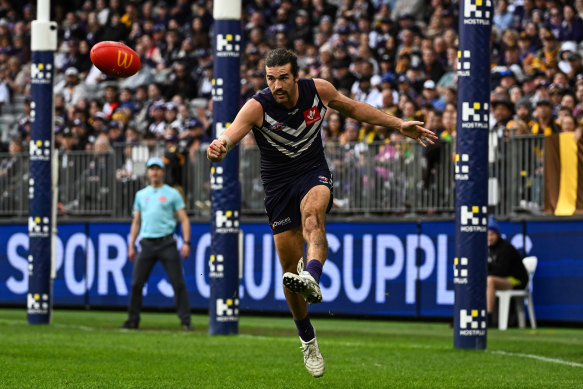 Fremantle have got themselves back into the contest against the Giants with Andrew Brayshaw snapping a goal to cut the lead to seven points midway through the third quarter.
The Giants led early in the match but the Dockers are coming good at Manuka Oval and it could be just in time considering a loss could cost them any chance of a top-four finish.
Giants 47, Dockers 41 with 13 mins to go in Q3.
HT: Gold Coast 6.8 (44) to North Melbourne 3.6 (24)
The Suns were challenged midway through the quarter but late goals to Alex Sexton and David Swallow see the visitors take a solid lead into half-time over the Roos.
North Melbourne had a couple of good moments but their errors were costly and the Suns continued to create chances up forward.
Swallow had 14 touches and a goal to lead the Suns while Aiden Corr has 19 touches for the Roos.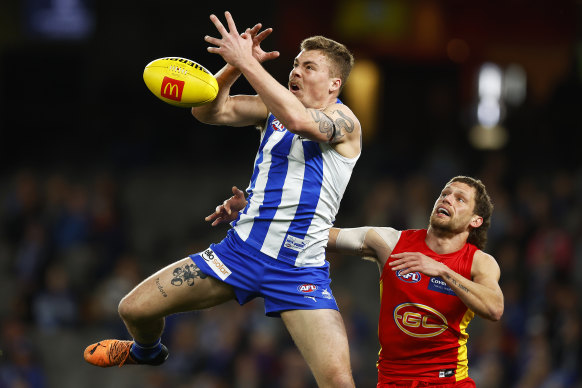 Swallow stands up for Suns
Suns stalwart David Swallow has come up with a very clean goal winning the ball on the ground and then snapping a goal from 40m out.
The Suns are deserving leaders in this match.
Suns 44, Roos 24 with a minute to go in Q2.
The Roos are riding their luck but still trail by two goals.
Charlie Lazzaro looked likely to be called for holding the ball as he attempted a kick for goal after a chase down from Matt Rowell but the umpire called play on and Lazzaro fed Jack Mahony who ran into an open goal.
Whichever side can polish up its field kicking will win this match as both sides have chances to score but struggle to take them.
Suns 37, Roos 24 with four mins to go in Q2.
Larkey gives Roos a spark
The goals have been few and far between in the second quarter for both clubs but Nick Larkey just got on the lead and pulled in a mark before converting a set shot.
The Roos are right back into this contest, as long as they keep hitting the target with their kicks.
Suns 31, Roos 17 with 10 mins to go in Q2.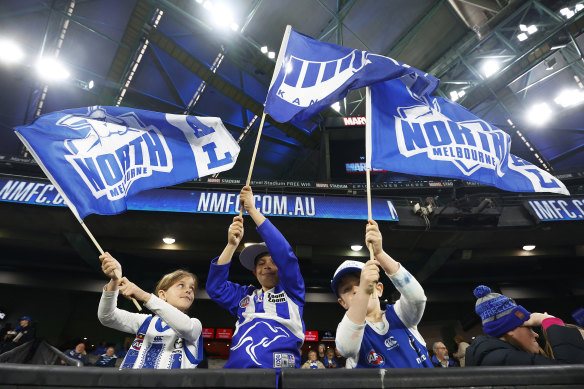 How a Giants win could change the finals
There is plenty of time to go in the game but GWS Giants hold a 24-point lead late in the first half against Fremantle and if they hold on for the win, it could well lead to Collingwood moving up to fifth place and set up Collingwood v Carlton elimination final.
The old rivals will play at a sold out MCG tomorrow with Carlton needing to win to lock in its finals place but the prospect of them facing off in a final is mouthwatering.
QT: Gold Coast 4.2 (26) to North Melbourne 1.5 (11)
Alex Davies and Alex Sexton have both kicked late goals for the Suns to see them comfortably ahead at quarter-time.
Both sides have had their issues with accurate ball movement in the opening term despite playing indoors at Marvel Stadium but the Suns pushed out their lead in the final minutes of the quarter.
The Roos aren't out of it but have to be cleaner with the ball and better at creating shots for goal.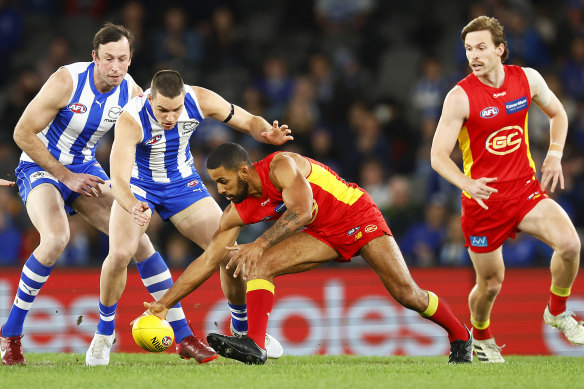 Dockers in trouble in Canberra
The Giants continue to build their lead over the Dockers in Canberra.
The Giants lead 45-14 with just over 12 minutes gone in the second quarter.