AFL LIVE updates: Crouch bump to come under scrutiny, Brisbane in the zone
We're sorry, this feature is currently unavailable. We're working to restore it. Please try again later.
Loading
Crouch (crash) bump in the gun
What the punters are saying (and Cornes!)
HT: Lions comfortably in control
A very good quarter by the Lions, who set the tempo. They were relentless in their attack on the ball. In contrast, St Kilda struggled to get an inside 50.
Brisbane 7.6 (48) lead St Kilda 4.2 (26)
GOAL: Saints drag one back
Mason Woods boots his second and St Kilda's fourth. After 24 minutes in the second term, it's almost the last chance saloon for the Saints.
GOAL: This time it's McStay
Daniel McStay marks close to the goal-line … and boots it!
It's all Brisbane at the moment … the Saints are rudderless in the second quarter. This goal came on the edge of time-on (19.36). Brisbane lead by 26 POINTS.
GOAL: Hipwood gets his second
Danger, danger, danger for St Kilda …
Eric Hipwood boots truly.
Brisbane 6.4 (40) lead St Kilda 3.2 (20)
State of play – Lions ominous
By

Roy Ward
The Lions are up and firing in this second term and St Kilda don't look like they have a solution for them as they have kicked the last three goals.
Perhaps the Lions have fired up after seeing Brad Crouch's late (looking) bump on 150th gamer Darcy Gardiner who has continued playing despite looking shaken up..
There is plenty of conjecture about whether Crouch will be suspended or not following the Patrick Cripps appeal on Thursday nigfht but it will surely get some very close scrutiny from the AFL match review officer.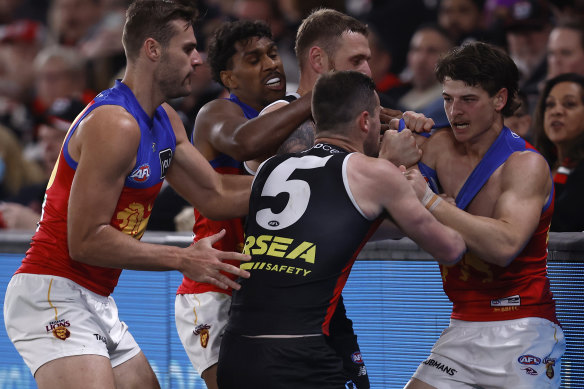 Lincoln McCarthy dobs one. The Lions have three in a row. The visitors have all the running ….