In 1993 Alastair Little was named Times Restaurant of the Year and two years later he and his partners opened a second Alastair Little, off Ladbroke Grove in Notting Hill.
Thin and bearded, with a faint Lancashire accent and a high-pitched giggle, Little was not the most glamorous of chefs, but in his heyday in the 1980s and '90s he was one of the country's most recognisable. He appeared on the cover of Elle magazine and on television in shows such as Ready Steady Cook and Masterchef.
By 2002, however, he had left the restaurant partnership. For most of the previous decade he had spent his summers running a cookery school near Orvieto in Umbria where, in 1995, he met Sharon Jacob, an Australian marketing manager whom he married in 2000.
Their relationship reportedly led to an acrimonious split with Kirsten Pedersen, the mother of his two children and co-director of the restaurant business, and his other business partner, Mercedes Andre Vega. After protracted financial negotiations – whereby Kirsten and Mercedes retained the right to use his name at the restaurant, Little quit, and in 2003 he and his new wife opened a delicatessen, Tavola, in Westbourne Grove.
"I would never go back to restaurants in a million years," Little told the Evening Standard in 2003. "In kitchens you never finish, there is always something to do. I don't go home now and collapse in a heap. We get home at 8pm, I have a bath and relax."
In fact, he did not give up restaurants entirely. In 2017, the Littles moved to Sydney, where they opened a pop-up restaurant inside the city's CBD Hotel. In 2019, they started a home delivery service in London called By Alastair Little.
In 2020 Little became co-owner and head chef of Et Al in Potts Point, in the Kings Cross area of Sydney. That year the Australian Good Food website reported: "The bespectacled Little scurries around the small kitchen just as he did in his pioneering London restaurant in 1985."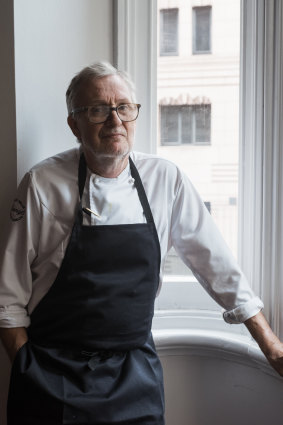 Robert Alastair Little was born on June 25, 1950, in Colne, Lancashire, to Robert Little, a naval officer, and Marion, née Irving. The family had an allotment and his mother liked to experiment with dishes discovered on continental holidays. Alastair liked to joke that she must have been the only housewife in east Lancashire serving gazpacho in the 1960s.
He was educated at Kirkham Grammar School, where he found himself longing for "something more than school food, which I couldn't stomach. By the age of 12, I was obsessed with what we were having for dinner."
He read archaeology and anthropology at Downing College, Cambridge, where the food was "horrible" but the wines "revelatory". He spent much of his time there, Elizabeth David to hand, making lavish dinners for student friends – including Rowley Leigh.
After graduation, he flirted briefly with a career in film editing, but his much more lucrative evening job as a waiter at Small's, a Knightsbridge cafe, took over.
He eventually became assistant manager at Small's before moving in 1974 to the Old Compton Wine Bar, where he took over as head chef when the previous one quit. With no professional training, he kept the menu simple and it was here that he began his practice of sourcing ingredients from the small shops and produce markets in Soho.
Further experience included part-ownership of two restaurants in Putney and Suffolk. After a spell in London at L'Escargot, he moved to 192 (Kensington Park Road), where he created simple menus that changed daily.
It was there that he met Kirsten Pedersen and Mercedes Andre Vega, who were working at the restaurant, and in 1985 they left to establish Alastair Little's namesake restaurant in Frith Street.
Unlike some "celebrity" chefs, Little did not churn out the annual money-spinning cookbook. Of the small handful he did publish, Keep It Simple (1993) won the Glenfiddich award for best food book of the year. Other titles included Food of the Sun, Italian Kitchen and Soho Cooking.
With Kirsten Pedersen he had a son and a daughter. With his wife Sharon he had another son. His wife and children survive him.
The Telegraph, London