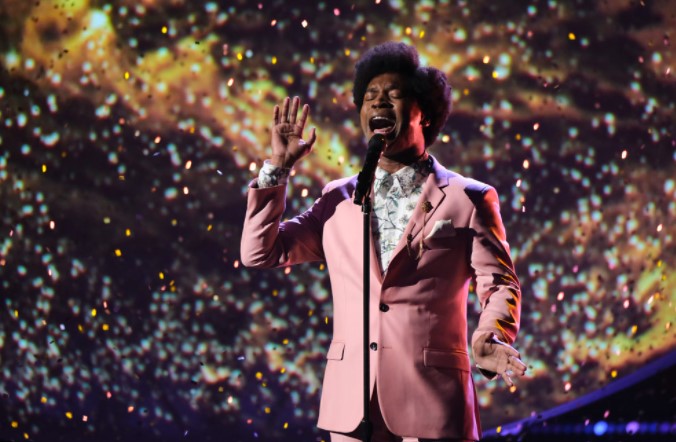 America's Got Talent held its first semifinal last night (Tuesday, August 31), with the highly anticipated results show taking place tonight (Wednesday, September 1). The second round of semis will take place next week (Tuesday, September 7 ) with the remaining 11 acts competing for a spot in the final.
After eight months, during which time the coronavirus pandemic has been raging, the America's Got Talent final will take place on Tuesday, September 14. The winning act will take home the title, along with prize money of $1 million.
The first semifinal saw a range of talent take to the Dolby Theatre Stage, from singers to acrobatics and magicians. Newsweek has a full recap of the performances from the First America's Got Talent semifinal.
All of the Performances from the First Semifinal
Jimmie Herrod
Jimmie Herrod has consistently impressed the judges and audiences at home throughout his America's Got Talent journey.
Jimmie was even America's Got Talent judge Sofia Vergara's Golden Buzzer act and he didn't disappoint.
For his semi performance, Jimmie took to the stage to sing Pink's "Glitter in the Air," receiving a standing ovation from the judges.
World Taekwondo Demo. Team
America's Got Talent host Terry Crews' Golden Buzzer act, World Taekwondo Demo. Team took to the Dolby Theatre Stage for the semifinal.
For judge Howie Mandel, World Taekwondo Demo. Team were his favorite act of the night.
Madilyn Bailey
Singer Madilyn Bailey found herself in the bottom two in the first quarterfinal. The judges reached a deadlock over who to save between her and Beyond Belief Dance Company, with Madilyn sailing through after the result went to the public vote.
For her semi performance, Madilyn sang her original song, "Red Ribbon" which was written in memory of her grandmother.
Peter Rosalita
Ten-year-old singer Peter Rosalita stunned the judges with his performance of Mariah Carey's "Without You."
His performance got off to a shaky start when he missed his mark. Handing the situation like a true professional, Peter asked the band to restart and he smashed his performance, earning a standing ovation from the crowd and judges.
Tory Vagasy
Tory Vagasy has had a rocky journey during America's Got Talent 2021.
She failed to win judge Howie Mandel over during the audition round, and he voted not to send her through to the quarterfinals.
During the quarters, Tory finished in 6th, 7th, or 8th place and was up for the Instant Save Vote.
In the end, she received more votes than Korean Soul and T.3., narrowly securing her spot in the semis.
For the semifinal, Tory performed "Can You Feel the Love Tonight" by Elton John and received mixed reviews from the judges.
While Sofia and Heidi Klum loved Tory's performance, Simon and Howie said her singing was amazing, but it was just wasn't right for the competition.
Korean Soul
Vocal group Korean Soul performed a cover of Lauren Daigle's "You Say" to mixed responses from the judges.
Simon criticized the group for being out of tune, but Sofia disagreed, saying they were getting better each week.
Gina Brillon
Gina Brillon had the audience and judges in stitches with her stand-up routine.
Simon even admitted he was wrong to be so critical of her in the past, exclaiming he "loved" her tonight.
Aidan Bryant
Sixteen-year-old aerialist Aidan Bryant impressed the judges with his spell-binding routine, with Sofia echoing Simon's sentiments from the quarterfinals that his act felt like watching a Vegas show.
Dustin Tavella
Magician Dustin Tavella left the judges and audience stunned with his emotional performance.
He asked the judges to think of people special to them in their lives and select items that were reminders of them.
Despite the random selection, Dustin was able to prove he knew what they were going to pick, revealing hand-written notes he had put in his pocket before he began his act, which revealed the correct and full list of items each judge would pick.
Simon Cowell was so impressed, he insisted Dustin would make it through to the finale.
Michael Winslow
Voice artist Michael Winslow changed up his routine for the semis.
Instead of commanding the stage, he played a game with the judges, asking them to pick a category.
Simon chose animals, Sofia chose the ocean, Heidi chose video games and Howie chose hardware and this time around, Michael performed a much wider variety of noises than audiences had ever heard him do before.
Beyond Belief Dance Company
Beyond Belief Dance Company was the Wild Card Act of the night.
The dance group was eliminated in the first quarterfinal after singer Madilyn Bailey won the public vote.
All of the judges admitted this was Beyond Belief's Dance Company's best performance to date, with Simon saying their optimism was the main reason why they wanted to bring them back.
America's Got Talent airs Tuesdays and Wednesdays at 8 p.m. ET on NBC.