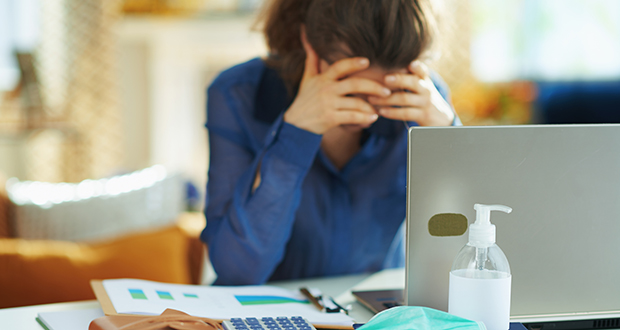 Episode five explores the impact of migraine in the workplace
This article is part of a sponsored series linked to each Beyond Migraine podcast episode brought to you by the Migraine Association of Ireland and Teva Pharmaceuticals Ireland. Please tune in to hear more on these topics and encourage people you are treating for migraine to listen in.
Clinical Nurse Specialist, Esther Tomkins, and The Wonky Spatula author Nicola Halloran, join Debbie Hutchinson on episode five of Beyond Migraine to discuss working with migraine, and how to manage stressful periods in life. Recent research by Teva found that 41% of people said that migraine has impacted their career, with 24% saying they've felt the need to hide their condition from colleagues or their boss.
There was general agreement by the guests on the podcast that those living with migraine should explain their condition to their managers and colleagues. Nicola – who herself lives with migraine – and who manages a team in her workplace said: "I do have someone else on my team who lives with migraine, and we have developed a system between us where if a migraine develops for them, they send me a message and just flag what needs to be covered over the next few hours. We've even spotted the pattern between us of when it happens to them, it's always coming towards the end of a really busy week and it's always after lunchtime. I think a lot of people (and businesses) have realised recently during the transition for many to working from home that flexible working hours are important, whether you are suffering from migraine, or whether you're minding kids or a loved one. So long as you get the work done, I really don't think that we have to stick to a strict 9-to-5. There's no point in someone sitting in front of the screen suffering in silence."
Esther said: "People who live with migraine tend to be high achievers who prefer to be at work, even though their productivity might be reduced during an attack. Therefore, it is important to get your manager on side, and to try and get them to understand what a migraine is, so they can be there as a support. In turn, that empowers you to feel confident in the workplace."
"So many people living with migraine hide it and they continue with their work, just so they don't have to ask for time off because of migraine. There is that old stigma that migraine is just a headache. That's why, it's important to have supportive colleagues and people who have your back at work. When they know you have a bad day you can take the time to recover, and it works both ways, when they need to take a day off for a different reason you'll be there and have their back. There's no cure for migraine so you've got to learn how to manage it", Esther continued.
Nicola can relate to people who feared coming forward to say that they need some time away from the desk during a migraine. "I'm pretty bad for kind of pushing through and getting my workload done, and I work well in that kind of environment. I'm a bit of an adrenaline junkie, but this doesn't necessarily work well if you live with migraine. I do think it is important to set barriers now that we are working from home. There's a tendency of waking up in the morning, turning the laptop on straightaway, where previously you would have had that morning time commute in normal circumstances. There is this feeling of, if my light on my computer isn't green, will people think I'm skiving off. I think you need to set barriers and let your managers and colleagues know you live with migraine, and you need to take your regular breaks, and your workload will get completed. I think people will respect you for that."
For a person living with migraine the workplace can be daunting, and everywhere you turn there is a potential trigger – from fluorescent lights to long periods in front of a computer screen. It can be overwhelming. "Light and noise tend to be the most common environmental issues for people at work. Also, people wearing strong perfume can be a real problem for a lot of people living with migraine. Many people whom I see in the hospital who live with migraine have said that they've addressed it with colleagues. People then have stopped wearing perfume in work, and they generally found colleagues are very supportive. For some, workplaces have added dimer switches to rooms to help with the lighting issue. Sometimes it's just a matter of explaining and getting people to understand what migraine is, and dispelling this myth that migraine is just a headache", according to Esther.
The average person living with migraine takes two sick days per year and loses another four in reduced productivity. However, with a few small changes and a bit of understanding, the above can be avoided. With the right information, support, treatment and understanding, most people who live with migraine can bring their condition under control, reducing the frequency and severity of attacks, thereby reducing the effect on their work, boss, and colleagues.
You can listen to the Beyond Migraine episode featuring Esther Tomkins and Nicola Halloran here.
The series can be streamed via the Migraine Association of Ireland website as well as wherever you listen to your podcasts.
For more information on migraine, you can visit Neurologybytes. This is an online news and education platform dedicated to neurology, where healthcare professionals working in neurology can discover bite sized content on the latest developments, with a particular focus on migraine and MS. Read more about migraine on www.neurologybytes.ie.
The Beyond Migraine podcast is supported by funding from Teva Pharmaceuticals Ireland. Speakers have received an honorarium for their contribution to the podcast.