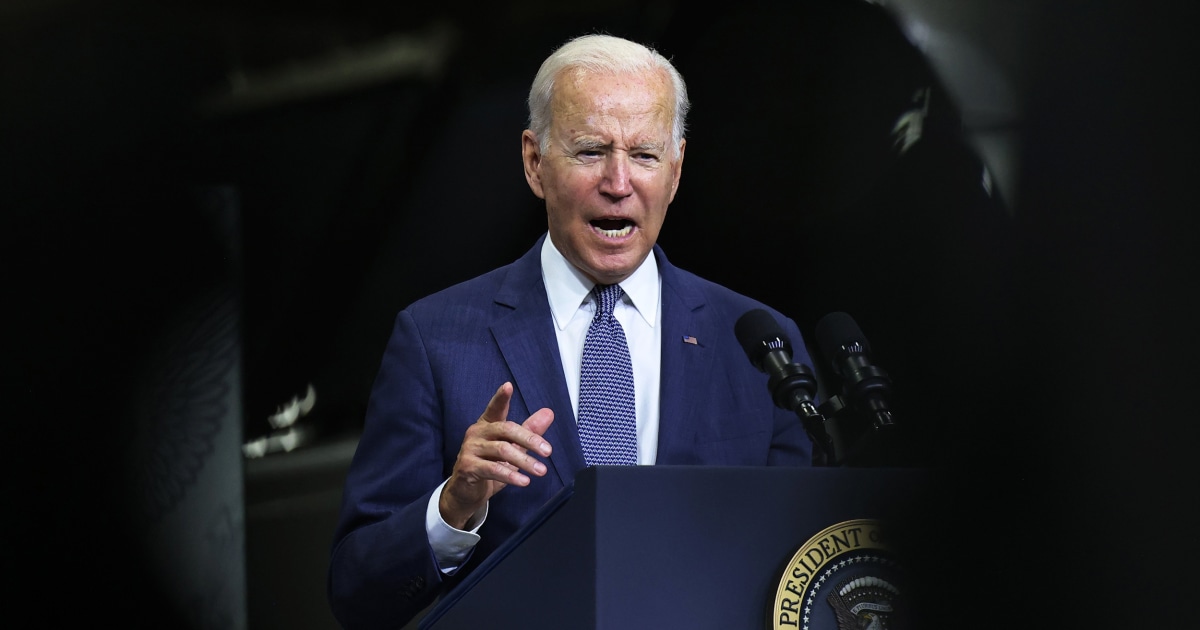 WASHINGTON — President Joe Biden unveiled a new framework Thursday for the sweeping social safety net package that includes money for child care and climate change, beginning an uphill struggle to convince leery lawmakers who have watched their priorities dwindle from the package.
"We are at an inflection point," Biden told House Democrats on Thursday in a closed-door meeting, according to a source familiar with the hour-long meeting. "The rest of the world wonders whether we can function."
If Biden is successful in passing this proposal and his $550 billion infrastructure plan, Congress will have enacted $5 trillion in spending in the 10 months since he took office — an historic level of new domestic spending.
"I don't think it's hyperbole to say that the House and Senate majorities and my presidency will be determined by what happens in the next week," Biden told Democrats in presenting the parameters of the package, according to the source.
He made the case for the legislation in remarks ahead of his trip to Europe.
"We spent hours and hours and hours over months and months working on this," Biden said. "No one got everything they wanted, including me. But that's what compromise is. That's consensus. And that's what I ran on."
The newest proposal amounts to $1.75 trillion, down from the original $3.5 trillion request. It includes priorities like funding for climate change, childcare and universal preschool. It relies on new taxes, including one aimed at millionaires and billionaires. But it omits many Democratic priorities, like paid family leave and free community college.
House Speaker Nancy Pelosi, D-Calif., told Democrats after Biden left the hill that the president "has been a better friend to House Democrats than any other president," according to the source.
Pelosi has asked her caucus to vote on the $550 billion Senate-passed infrastructure bill Thursday before Biden lands in Rome. That bill has been stalled in the House because progressives have hoped to use it as leverage to force moderate senators to support the larger spending package.
"When the president gets off that plane, we want him to have a vote of confidence from this Congress," Pelosi said, according to the source.
Meanwhile, Senate Democrats are discussing the proposal during a virtual meeting Thursday.
The contents of the framework
Senior administration officials said that the measure will total about $1.75 trillion in funding, which they described as "the most transformative investment in children's caregiving in generations, the largest effort to combat climate change in history, a historic tax cut for tens of millions of middle-class families and the biggest expansion of affordable health care in decades."
The latest version does not appear to include funding for paid family leave, a piece that had been a priority for many Democrats, including several women lawmakers.
White House officials said that the measure will be fully paid for through new taxes and reduce the deficit by generating about $2 trillion in revenue through an array of changes to the tax system. Officials stressed that no one making less than $400,000 will have their taxes raised.
The measure would provide for six years of universal free preschool for all 3- and 4-year-olds, extend the child tax credit that was originally implemented by a previous coronavirus rescue package, and reduce premiums by an average of $600 per year for more than 9 million Americans who buy insurance through the Obamacare marketplace, the officials said.
Notably, the officials said that in addition to closing a Medicaid coverage gap, the framework would expand Medicare coverage to include hearing services. Sen. Bernie Sanders, I-Vt., had been pushing for expanding Medicare to cover vision and dental services, as well.
The legislation, they said, would also aim to start cutting climate pollution and put the United States on a track to reduce emissions by at least 50 percent by 2030. It would provide clean energy tax credits and an electric vehicle tax credit that would lower the cost of an electric vehicle by up to $12,500 per middle-class family, the officials said.
Biden heads to Europe Thursday where he will meet with other world leaders in Scotland to discuss climate change, giving him an element of his agenda to tout.
Officials said that the bill will make the "single largest and most comprehensive investment in affordable housing history," extend the earned income tax credit for 17 million low-wage workers and provide funding for historic Black colleges and universities.
While the bill doesn't provide for a path to citizenship, the officials said on top of the $1.75 trillion, Democrats are going to try to add an addition $100 billion toward reducing immigration backlogs and expanding legal representation.
To pay for the bill, the framework will raise taxes on the highest-income Americans by creating a surtax on the incomes of multimillionaires and billionaires, officials said, adding that it would also invest in the IRS to ensure that wealthy Americans are paying the taxes that they owe.
They also said that the legislation would impose a 15 percent minimum tax on corporate profits that large corporations with more than a billion in profits report to their shareholders and a 1 percent tax on stock buybacks. To punish companies that ship their profits overseas, the bill would impose a 50 percent minimum tax on foreign profits of U.S. corporations.
As far as the proposals that have been scrapped, officials said that they weren't able to agree on provisions that would give Medicare the authority to negotiate drug prices for Americans.
NBC News reported Wednesday that Democrats dropped a proposal for paid family and medical leave from the spending package after Sen. Joe Manchin, D-W.Va., expressed opposition. Biden had originally proposed 12 weeks of paid leave, then last week it was reduced to four weeks before it was eliminated altogether.
President Barack Obama endorsed the framework Thursday, saying in a statement, it "doesn't contain everything that the president proposed and that some had hoped. But that's the nature of progress in a democracy."
'A will to do it'
White House officials voiced confidence Thursday morning that the framework would earn the support of all 50 senators in the Democratic caucus and pass the House. But it may not be that simple.
Members of the Congressional Progressive Caucus have been at odds throughout the talks with the two moderate senators who have thrown up numerous roadblocks, Manchin and Kyrsten Sinema of Arizona.
Rep. Pramila Jayapal, D-Wash., co-chair of the Congressional Progressive Caucus told reporters after the meeting with Biden that while he made a "compelling speech" for both the infrastructure bill and the economic measure, she said that many members of her caucus still feel that they want to see legislative text and want to vote on both bills together.
Similarly, Rep. Ilhan Omar, D-Minn., the progressive caucus whip, said Thursday there are concerns that Sinema or Manchin may not follow through on a framework. She said the caucus position remains that the Senate should pass a bill first before they agree to support the infrastructure bill.
"There is certainly a trust issue," Omar told NBC News. "I mean, people who are constantly changing their position can't be trusted. So we have to actually have legislation that we vote on in order to trust that that legislation would be the final bill."
Sanders told progressive members that he supports their demand for legislative text before they agree to vote for the bipartisan infrastructure bill, according to two aides familiar. "No legislative text, no [Bipartisan Infrastructure Plan]," one aide said is their position.
He told reporters Thursday, "There are a number of concerns, paid family medical leave is also a concern. I'm glad we were able to get hearing aids."
Senate Majority Whip Dick Durbin, D-Ill., however, said that he isn't confident all 50 senators in the Democratic caucus are on board with the president's deal.
"I wish I could say yes, but there's a great deal of uncertainty within the caucus as to what's contained in the deal," said Durbin. "I will tell you there is a will to do it."