"It supports keeping the rich agricultural soil staying in the Lockyer River and not being washed down into Moreton Bay.
"The federal government has indicated they are supporting that. If they are supporting that, then they could easily make a jump towards supporting this Oxley Creek Transformation project."
Durack is one of the fastest-growing suburbs in Brisbane.
The new park would have a large adventure play space and water play area, a youth hub with a basketball court, a bush foods garden and a native plant nursery.
"It is important because, historically, Oxley Creek was always the most polluted and degraded catchment creek in the city's wider creek network," Schrinner said.
"So we have targeted it with a special 20-year program."
The bigger Oxley Creek Transformation master plan covers a 20-kilometre-long green space corridor, from the Brisbane River at Tennyson to Warril Parkland at Larapinta.
The 150-hectare Archerfield Wetlands site is one of the Oxley Creek Transformation's biggest projects, which will include eucalypt forests, open grassland and freshwater wetlands, with more than 150 different bird species.
The person charged with transforming Oxley Creek is Nigel Chamier OAM, the man who led the rescue of City Hall, whose foundations had been wracked with deteriorating concrete.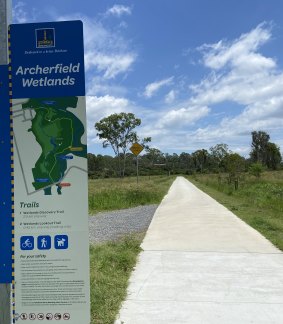 Chamier said the council's commitment of $100 million for the environmental repair work should not be underestimated.
"There is nothing more important than preserving this land and opening it up for people," he said.
"The three-kilometre walkway … has already been through two floods, and it has held up very well and within a week or two it was open again.
"So we have already learned from the past floods."