A series of illegal weapons were seized from a home in
western australia
including machetes and tasers.
A 41-year-old man has been charged with 22 offenses after 19 weapons, including tasers, gel guns, axes, machetes, knives and ammunition, were seized from his Perth unit.
The discovery followed reports that a man was aggressively using a Taser at a Karrinyup shopping center in the north of the city two weeks ago.
Scarborough Police managed to track down the man using information provided to them by the public.
The 41-year-old man was charged with ten counts of possession of a prohibited weapon, eleven counts of possession of a controlled weapon and being armed in a manner likely to cause fear.
He is due to appear in Perth Magistrate Court on March 28.
Police allege that during the search of the Karrinyup unit, a 63-year-old woman who also lived there became aggressive.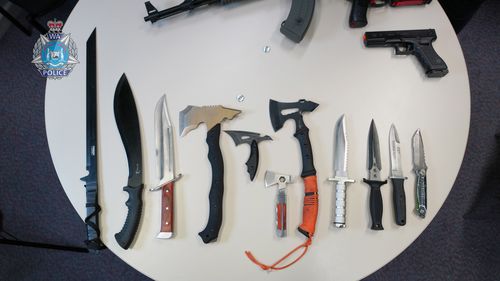 She was arrested and charged with obstructing police officers and failing to comply.
She will appear in Perth Magistrates Court on March 24.