A man has been arrested in London after his car crashed into the main gates leading to Downing Street, where the
UK Prime Minister
live and work.
In video broadcast by the BBC, a silver hatchback can be seen driving straight into the wrought-iron gates that prevent public access to Downing Street, prompting a swift security response at one of London's most heavily fortified sites.
Armed officers arrested a man at the scene around 4:20pm Thursday (1:20am Friday AEST) "on suspicion of criminal mischief and dangerous driving," the Metropolitan Police said in a statement.
He has been taken into custody and investigations are ongoing, but there are no immediate reports of injuries.
British Prime Minister Rishi Sunak was in Downing Street at the time of the incident on Thursday but has since left for a scheduled visit, the BBC reported.
Video footage posted to social media showed a car heading straight for the gates at low speed through Whitehall, the main thoroughfare in London's government district.
Footage filmed shortly after showed a car with the trunk open against the tall metal doors, while police officers inspected the vehicle.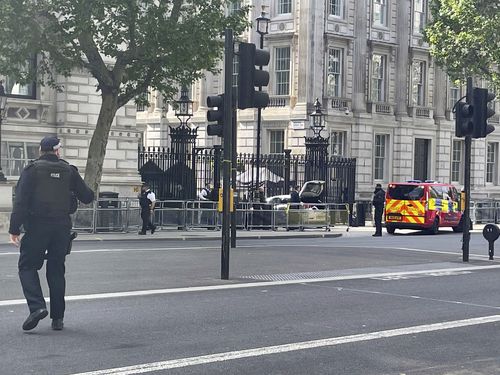 It was not immediately clear if the accident was deliberate. Police said they were working to establish the circumstances.
"I heard a bang, looked up and saw a bunch of police officers with tasers yelling at the man," said witness Simon Parry, 44.
"Many police vehicles arrived very quickly and were very quick to evacuate the area."
The BBC showed a photo of officers leading a man away with his hands handcuffed behind his back.
UK weather police had cordoned off Whitehall, the main road past Downing St and where other politicians hang out, after the incident.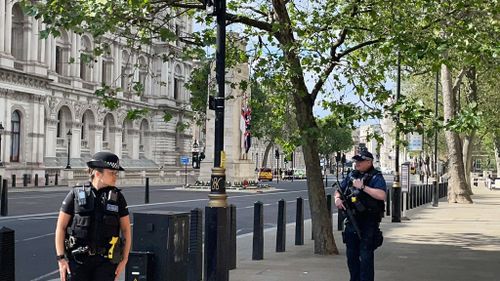 However, they began raising the barriers within half an hour, allowing people to return to the area, which is normally packed with civil servants and tourists eager to see the nearby Houses of Parliament and other historic buildings.
Downing Street is a narrow street lined with a row of Georgian houses that includes the official residence of the Prime Minister at number 10.
Public access to the street is restricted and the gates are guarded at all times by armed policemen.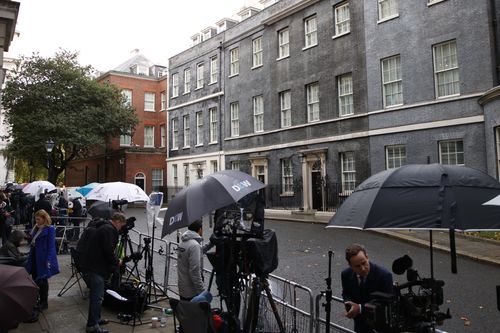 The gates were erected in 1989 in response to threats from Irish Republican Army militants.
In 1991, the IRA fired three mortars into the street, one of which exploded in the backyard of No. 10 while Prime Minister John Major was conducting a cabinet meeting inside. Three police officers and one official suffered minor injuries.
sign up here
to receive our daily newsletters and breaking news alerts, sent directly to your inbox.