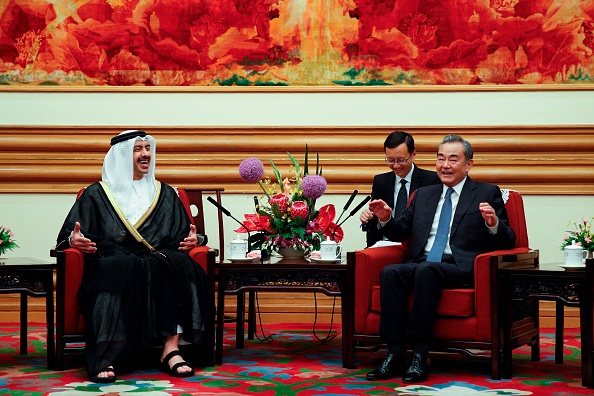 This piece is part of the series "All About China"—a journey into the history and diverse culture of China through short articles that shed light on the lasting imprint of China's past encounters with the Islamic world as well as an exploration of the increasingly vibrant and complex dynamics of contemporary Sino-Middle Eastern relations. Read more …
---
The Taiwan Strait and the Strait of Hormuz lie at opposite ends of the Indian Ocean Region (IOR), which has fast become the epicenter of US-China global rivalry. Two recent news articles demonstrate how this rivalry is evolving. A story appearing in The Wall Street Journal in early October revealed that a US special operations unit and a small contingent of Marines had been deployed to Taiwan and secretly training its military for at least a year.[1] The WSJ was also the first to report, in mid-November, that construction of a suspected Chinese military facility at Khalifa Port in the United Arab Emirates (UAE) had been halted following several rounds of meetings and visits by senior American officials.[2] The juxtaposition of these two developments provides a striking image of the widening ambit of US-China strategic competition.
The competition taking place between the US and China extends to the Middle East. As tensions between them have intensified, the security implications of China's burgeoning ties with MENA countries have emerged as a source of growing concern to Washington. Of particular concern is Chinese ownership and development of port-industrial park complexes in the Gulf, which could serve as access points for what American officials regard as China's "long-term goal of expanding its military presence to secure vital routes of energy and trade."[3]
From Overseas Investment Points to "Strategic Strongpoints"
In 2013 — the same year that President Xi Jinping launched the Maritime Silk Road (MSR) — China surpassed the United States as the world's largest trading nation. China's economic well-being and vitality depends on reliable access to energy supplies, raw materials, and foreign markets, conducted mainly by sea.[4] Nearly all of China's maritime trade with the Middle East, Africa, and Europe flows through the Indian Ocean. Furthermore, the IOR has emerged as a critical component of Xi Jinping's "Belt and Road Initiative," which has further fueled the growth of China's overseas investments and expatriate community. For all these reasons, China's continued access to Indian Ocean sea lines of communication (SLOCs), and the maritime chokepoints at both ends, is vital.[5]
Chinese policymakers and analysts view port facilities as the cornerstone of sea lane security. This has resulted in a massive strategic investment campaign aimed at building a worldwide network of shipping and port assets. To date, China has invested in more than 100 ports in 63 countries.[6] Twenty of these holdings are situated in the Middle East and North Africa (MENA) region.[7] In fact industrial park-port projects[8] have emerged as key elements of Sino-Middle East cooperation and of the place the MENA region occupies within China's Belt and Road Initiative (BRI) framework.
The push into commercial ports has been spearheaded by a handful of state-owned enterprises (SOEs), most notably COSCO Shipping Ports (COSCO) and China Merchants Port (CMPort) — national champions as well as key actors in the BRI. It is important to mention here that COSCO and China Merchants have deep ties to the Chinese Communist Party (CCP),[9] which under Xi Jinping's watch has greatly expanded its oversight and involvement in state-owned enterprises (SOEs) and private firms.[10] In addition to the considerable state support COSCO and CMPort receive for their overseas activities from the state, these giant commercial entities are interlinked with the state-party apparatus in various other ways. They are directly administered by the State-owned Assets Supervision and Administration Commission (SASAC), a State Council-managed party agency. They, as well as other major state-owned SOEs have CCP committees embedded in their management boards.[11] And they, like other Chinese companies, are required by law to assist in intelligence gathering and national defense mobilization.[12]
China's overseas commercial port acquisition drive has been complemented by the well-documented modernization and expansion of the People's Liberation Army Navy (PLAN). The potential use of overseas ports assets not just to facilitate trade but to furnish the PLAN access to key areas and worldwide mobility[13] has been a subject of extensive discussion within both the Chinese and American strategic communities since the early 2000s. Chinese military analysts have publicly advocated the creation of a network of naval bases as a necessary means of safeguarding China's commercial interests.[14] With the US increasingly perceived in Beijing as a rival determined to thwart China's rise,[15] a potential network of bases across the IOR likely looks to be Beijing to be a credible deterrent against threats to its SLOCs.
In recent years, Chinese experts and officials have referred to "strategic strongpoints" as a means of developing its overseas military support capabilities[16] — a model that while lacking a precise official definition they have sought to portray as distinct from, and more benign than traditional military bases operated by other countries. As Dutton et al. have shown, these strategic strongpoints projects have three distinguishing features: 1) their location astride major sea lines of communication (SLOCs) and clustering near maritime chokepoints; (2) the comprehensive nature of Chinese investments and operations, involving coordination among SOEs and private firms; and (3) their fused civilian and military functions.[17]
The concern that Chinese investments in overseas ports could be a precursor to the establishment of a 'string' of overseas Chinese naval bases has been building for years within the US national security community.[18] The reassertion of Party control over SOEs, the demonstrable security links between Chinese SOEs and the PLAN, [19] and the establishment in 2017 and subsequent development of the PLAN support base in Djibouti[20] have amplified this concern. Speaking before the House Armed Services Committee on 20 April, the commander of US Africa Command (AFRICOM), General Stephen Townsend warned that "they [the Chinese] continue to expand their base in Djibouti into a platform to project power across the [African] continent and its waters" and are "looking for other basing opportunities [around Africa]…"[21] The latest threat assessment by the US intelligence community,[22] report to the Congress by the Pentagon,[23] and Chief of Navy Operations NAVPLAN[24] all state that the PLA will continue to pursue overseas military facilities and access agreements to project power and protect Chinese interests.
UAE: A Foothold For Chinese Military Access?
The recent WSJ account of senior American officials intervening to bring a halt to construction of a secret Chinese military facility in the UAE, a key US partner in the Middle East, appears credible but is not altogether surprising. The UAE is China's most important economic — and politically stable — partner in the region: a major source of oil, a gateway for Chinese exports and "pivot city" in the BRI,[25] an important destination for diversified investment and construction,[26] as well as home to some 6,000 Chinese businesses and 200,000 Chinese nationals.[27] There is considerable economic complementarity, active cooperation, and potential between China and UAE in areas including free zone development, technological innovation, logistics and infrastructure, and lately even vaccine production. These extensive and growing ties would seem to make UAE a prime candidate to serve as a "strategic strongpoint."  
To be sure, many questions remain to be answered, including the specific purposes for which the suspected military facility may have been intended. However, such a facility need not have taken the form of a full-blown naval base to be useful. It is implausible that Beijing would have embarked on a project of this kind without disclosing their plans — and unlikely that Abu Dhabi, given its security relationship with the United States, would have given their assent. But a more realistic scenario would be the construction of a "military-relevant" facility in the form of an intelligence collection installation, likely focused on signals intelligence (SIGINT) — possibly representing an initial step in an incremental expansion of China's military presence eventually cemented through a naval access agreement.
Emirati authorities vehemently denied having been aware of, much less having agreed to the construction of a military facility.[28] But it seems unlikely the Emiratis would be unaware of the construction of a secret Chinese facility until the Americans alerted them of its presence.  It is also unlikely that China would risk damaging the relationship with one of its most strategic partners in the region by constructing such a facility without informing the Emiratis. The likeliest possibility, therefore, may be that the Emirati officials might have chosen to remain silent on the issue, which is perhaps indicative of the current state of the US-UAE relations.
The past two decades have been marked by an erosion of US credibility and loss of confidence among Gulf Arab governments in the resoluteness and sustainability of American security commitments.[29] These perceptions have been reinforced by the persistent — and unresolved — debate within the US policy and academic communities regarding the level of priority and resources that the region should command.[30] Taken together, these anxiety-inducing circumstances have prompted America's Gulf Arab security partners to reassess their singular reliance on the United States, adopt more activist foreign policies, and explore diversifying their security relations with other countries as a way of  hedging against the perceived unreliability of the United States.
It is unclear that US Gulf partners have been — or can be — dissuaded from thinking that America's strategic retreat from the Middle East is inevitable, if not imminent. Given this lingering uncertainty, their adoption of a posture of limited hedging only makes sense, as does their resistance to Washington's démarches regarding relations with China.
To see how US-China competitive dynamics intersect with US-Gulf Arab relations, one need not look further than two issues currently facing the US and UAE: 1) the proposed sale of F-35 stealth fighter jets and MQ 9-B Reaper drones, which has yet to be finalized, and 2) American pressure on the UAE to remove from its telecommunications network 5G equipment obtained from Huawei, which the US regards as an "untrusted vendor" that poses a potential security threat.[31] Like the matter of the suspected Chinese military site at Khalifa Port, which reportedly remains a "live issue,"[32] these are thorny problems which cannot easily be compartmentalized.
Washington is clearly uncomfortable with "signs of nascent China-UAE security cooperation."[33] According to Deputy Assistant Secretary of State Mira Resnick, "there are certain categories of cooperation with the PRC that we [the US] cannot live with."[34] Similarly, Deputy Assistant Secretary of State Dana Stroul remarked during the same Senate hearing: "[T]he current assessment is that China has a global strategy of pursuing military installations all over, including the Middle East…we warn and discuss with our partners in the Middle East that ultimately Chinese engagement in certain categories will violate their sovereignty."[35] It can be safely assumed that the establishment of a Chinese military 'facility,' let alone a naval base is one of them. Meanwhile, Washington has continued to press hard to obtain guarantees of strict compliance with end-user terms and conditions for the sale of advanced weaponry while pushing Abu Dhabi to replace Huawei network gear within four years — before the scheduled delivery of F-35s.[36]
Strategic Mistrust and Great-Power Rivalry
The Indian Ocean Region (IOR) has emerged as the central arena of great-power competition between the United States and China. Of late, Sino-American competition has migrated to and intensified within the MENA region, especially the Gulf.
Chinese investment and operation of industrial park-port complexes in the MENA region are integral elements of China's Maritime Silk Road (MSR) strategy. But it is important to mention that not all overseas ports investments and activities are part of a CCP-driven master plan.[37] Neither are all Chinese overseas activities harmful to Western interests.[38]
Still, it would be imprudent to ignore the signs or discount the security implications of Chinese commercial assets serving as platforms for defense espionage and/or other military activities, especially given the rapid modernization and development of the PLAN, the CCP's military-civil fusion policy, and the evolution in thinking and application of China's "strategic strongpoints" model. As the US searches for ways to mitigate these risks without placing its traditional allies in an impossible situation, the UAE is struggling to balance its vital security partnership with the United States with its valuable and burgeoning economic ties with China. A non-binary option could benefit all three countries. But Washington and Abu Dhabi will find it difficult, at best, to devise and agree upon an option whereby UAE serves as "a shining pearl along the Belt and Road"[39] and at the same time as a strategic outpost along China's "string of pearls."
---
[8] UAE's Khalifa Port, Oman's Duqm Port, Saudi Arabia's Jizan Port, Egypt's Port Said, and Israel's Ashdod and Haifa ports. See Degang Sun and Yahia Zoubir, "Development First": China's Investment in Seaport Constructions and Operations along the Maritime Silk Road, Asian Journal of Middle Eastern and Islamic Studies 11, 3 (2017): 35-47; Jonathan Fulton, "China's Gulf Investments Reveal Regional Strategy," The Arab Gulf States Institute in Washington, July 29, 2019, https://agsiw.org/chinas-gulf-investments-reveal-regional-strategy/. 
 
[11] Jones and Veit, "Leaping across the ocean: The port operators behind China's naval expansion," 4, 8, 14, 25.
 
[14] D. Kostecka, "Places and Bases: The Chinese Navy's Emerging Support Network in the Indian Ocean," Naval War College Review 64, 1 (2011): 63; Michael Chase and Andrew Erickson, "Changes in Beijing's Approach to Overseas Basing," China Brief 9, 19 (2009); M. Chan and G. Torode, "Call for China to set up naval bases abroad," South China Morning Post, December 30, 2009; Richard Weitz, "China Tests Waters on First Overseas Naval Base," World Politics Review, January 5, 2010.
 
[15] Feng Zhang and Richard Ned Lebow, Taming China's Rise (Oxford: Oxford University Press, 2020).
 
[16] Conor Kennedy, "Strategic Strong Points and Chinese Naval Strategy," China Brief 19, 6 (March 22, 2019), https://jamestown.org/program/strategic-strong-points-and-chinese-naval-strategy/; Nathan Beauchamp-Mustafaga, "Where to Next? PLA Considerations for Overseas Base Site Selection," China Brief 20, 18 (October 19, 2020), https://jamestown.org/program/where-to-next-pla-considerations-for-overseas-base-site-selection/.
 
[18] Booz Allen Hamilton published "Energy Futures in Asia." "China builds up strategic sea lanes," Washington Times, January 17, 2005, https://www.washingtontimes.com/news/2005/jan/17/20050117-115550-1929r/. See also Christopher Yung, "China, War, and the Indian Ocean," War on the Rocks, March 3, 2015, https://warontherocks.com/2015/03/china-war-and-logistics-in-the-indian-ocean/.
 
[19] Jones and Veit, "Leaping across the ocean: The port operators behind China's naval expansion." 
 
[28] Lubold and Strobel, "Secret Chinese Port Project in Persian Gulf Rattles U.S. Relations With U.A.E."
 
[29] Sanam Vakil, "Middle East Perceptions of an America Adrift," The Caravan, March 28, 2021, https://www.hoover.org/research/middle-east-perceptions-america-adrift; Kristen Fontenrose, "What the Arab Gulf is thinking after the Afghanistan Withdrawal," Atlantic Council, September 23, 2021, https://www.atlanticcouncil.org/blogs/new-atlanticist/what-the-arab-gulf-is-thinking-after-the-afghanistan-withdrawal/; Emile Hokayem, "Reassuring Gulf Partners While Recalibrating U.S. Security Policy," Carnegie Endowment for International Peace, May 18, 2021, https://carnegieendowment.org/2021/05/18/reassuring-gulf-partners-while-recalibrating-u.s.-security-policy-pub-84522; John Calabrese, "The United States and the Gulf: Trapped in Transition?" Middle East Institute, January 4, 2021, https://www.mei.edu/publications/united-states-and-gulf-trapped-transition; Marc Lynch, "Does the decline of U.S. power matter for the Middle East?" Washington Post, March 19, 2019, https://www.washingtonpost.com/politics/2019/03/19/does-decline-us-power-matter-middle-east/.
 
[30] Sean Yom, "Middle East Drawdowns Prove American Priorities Have Changed," The National Interest, August 18, 2021, https://nationalinterest.org/blog/middle-east-watch/middle-east-drawdowns-prove-american-priorities-have-changed-191994; Robert A. Manning and Christopher Preble, "Reality Check #8: Rethinking US military policy in the Greater Middle East," Atlantic Council Issue Brief, June 24, 2021, https://www.atlanticcouncil.org/content-series/reality-check/reality-check-8-rethinking-us-military-policy-in-the-greater-middle-east/; William F. Wechsler, "No, the US shouldn't withdraw from the Middle East," Atlantic Council Issue Brief, June 24, 2021, https://www.atlanticcouncil.org/in-depth-research-reports/issue-brief/no-the-us-shouldnt-withdraw-from-the-middle-east/; Richard Fontaine and Michael Singh, "Is America No Longer the Middle East's Greatest Power?" The National Interest, February 15, 2017; Robert Satloff, "Don't Pull Back," in "Commitment Issues," Foreign Affairs, May/June 2019; Steven Cook, "No Exit: Why the Middle East Still Matters to America," Foreign Affairs, November/December 2020; Martin Indyk, "The Middle East Isn't Worth It Anymore," Wall Street Journal, January 17, 2020; Trita Parsi, "The Middle East Is More Stable When the United States Stays Away," Foreign Policy, January 6, 2020.
 
[31] Chyrine Mezher, "Will the UAE actually get F-35? How Huawei, Russia factor into decision," Breaking Defense, November 13, 2021, https://breakingdefense.com/2021/11/will-the-uae-actually-get-f-35-how-huawei-russia-factor-into-decision/; Nick Wadhams, "Biden Prods UAE to Dump Huawei, Sowing Doubts on Key F-35 Sale," Bloomberg, June 11, 2021.
 
[33] Warren P. Stroebel and Nancy A. Youssef, "F-35 Sale Imperiled Over U.S. Concerns About Ties to China," Wall Street Journal, May 25, 2021, https://www.wsj.com/articles/f-35-sale-to-u-a-e-imperiled-over-u-s-concerns-about-ties-to-china-11621949050; Chyrine Mezher, "UAE conglomerate EDGE partners with China, US, unveils new homegrown capabilities," Breaking Defense, November 15, 2021, https://breakingdefense.com/2021/11/uae-conglomerate-edge-partners-with-china-us-unveils-new-homegrown-capabilities/; Angelos Kaskanis, "China and the UAE: Cybersecurity Cooperation," Tactics Institute for Security & Counter Terrorism, July 29, 2021, https://tacticsinstitute.com/middle-east/uae-digital-oasis-or-cyber-oppresion-hub/; Nima Khorrami, "The Great Power Race in Cyberspace," Sada, December 14, 2020, https://carnegieendowment.org/sada/83446.