Commonwealth Games 2022 Day 9 LIVE updates: Eleanor Patterson chases high jump title as Montag, Aussies bowl pair win gold
We're sorry, this feature is currently unavailable. We're working to restore it. Please try again later.
Pinned post from
How things stand
A relieved Eleanor Patterson has cleared 1.92m on her second attempt to remain on top of the women's high jump final.
Jamaican pair Lamara Distin and Kimberley Williamson are in first place and third place either side of Patterson.
We are fast getting to the business end of this final although England's Morgan Lake went close to clearing 1.92m before touching the bar.
'Continuing a legacy': Montag celebrates gold in walking
Australia's Jemima Montag says she adored racing inside the athletics stadium today with a comfortable win and her second-consecutive Commonwealth Games 10,000m walking gold medal.
"I feel like I am continuing the legacy of really strong race walking in Australia," Montag told Channel Seven.
"To go back-to-back, winning on the Gold Coast four years ago changed my life. I didn't think that at the time but looking back it really set in that self-belief and I've got big dreams for two more Olympics Games and today was special."
Patterson misses at 1.92m
Eleanor Patterson has had her first miss in the women's high jump final knocking the bar at 1.92m.
Athletics: Australia's Jemima Montag has scorched the track to win the 10,000m walk in a personal best and games record time.
Montag completed her race in 42:34.00.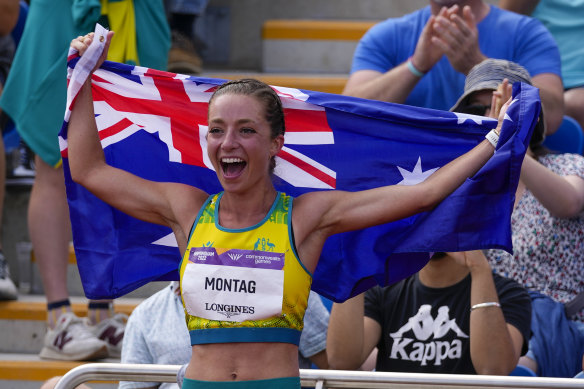 Australia's Rebecca Henderson finished fourth and Katie Hayward seventh.
From Michael Gleeson:
Jemima Montag has won back to back racing walking Commonwealth golds, albeit this year's race is half the distance of the last one on the Gold Coast. Montag was so dominant, so far ahead she had lapped nearly every other walker and was able to wave, point, thumbs up and celebrate her win just before the bell rang for the final lap. Unless she had some Jane Saville type moment she'd win gold. There was no drama, she won easily.
Eleanor Patterson has cleared 1.89m on her first attempt to make it two jumps from two in the women's high jump final.
Patterson looks comfortable and very much in the moment in these early jumps with 1.89m the best jump so far.
Ryan wins gold for Australia on last bowl
Ellen Ryan has won the gold medal for Australia in the women's pairs final beating England in an extra end.
Early on, Australia were 11-2 down but they stormed back into the contest.
Scores were tied 18-18 after 18 ends and England had the closest bowl with Ryan taking the last shot of the end, she aimed for England's best bowl and knocked it clear of the jack setting off wild celebrations.
Ryan and Kristina Krstic win gold for Australia 19-18 over England, this win sees the 25-year-old Ryan score two gold medals from the games.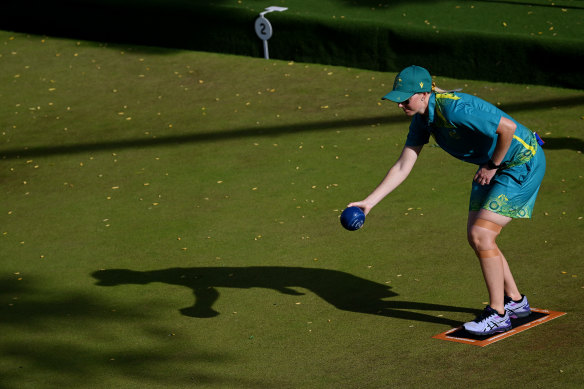 Five Aussies in semis today
By

Phil Lutton
Boxing: Phil 'Hurricane' Lutton checking in from ringside at the fights as Australia deploys five boxers in the semi-finals today.
Kaye Scott the first of them up in 30 minutes as she chases a spot in the light middleweight gold medal bout.
In her way is Alcinda Helena Panguane from Mozambique.
Montag ahead in 10km walk
Australia's Jemima Montag is ahead by around 22 seconds with 6km to go in the 10,000m walk final.
Montag is the favourite and the event is happening on the athletics track as the high jumpers go through their final.
Australian star Eleanor Patterson has cleared her first leap in the women's high jump final at 1.85m.
She went over comfortably in warm conditions at the athletics track.
Lawn bowls: England is up 18-17 entering the last end of the women's pairs gold medal game against Australia.
The Aussies took one shot from the last end and almost scored another, either way it will go down to this 18th and last end.