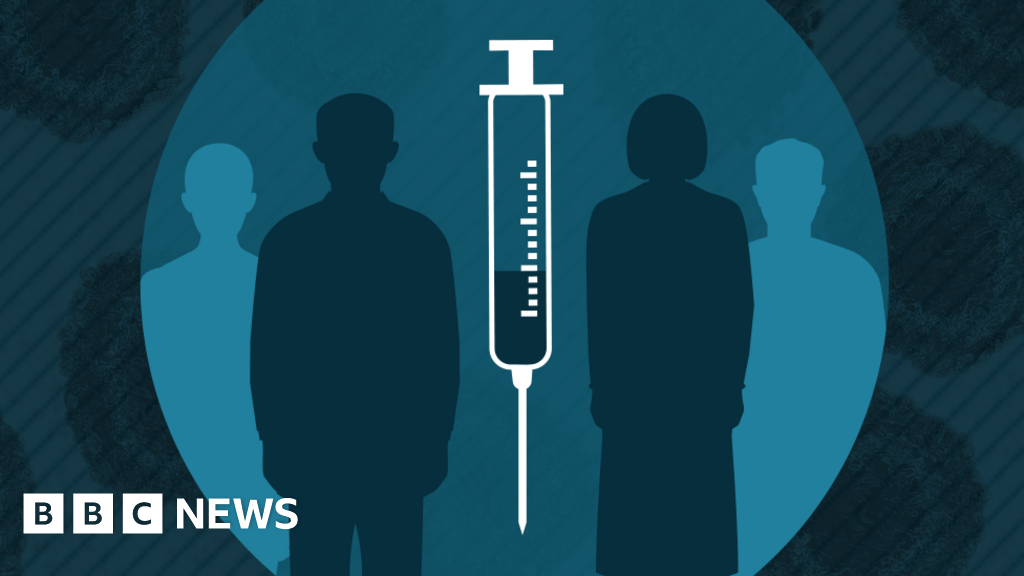 All UK adults will be offered a Covid booster, the government has announced.
Children aged 12 to 15 will also be offered a second dose.
Second jabs for children and boosters for millions
A series of changes have been announced by the government, amid concerns about a new Covid variant:
18- to 39-year-olds will be offered booster jabs
Boosters will be prioritised according to age and for at risk groups
The minimum gap between receiving a second Covid vaccine dose and booster will be halved to three months
Children aged 12 to 15 will be offered a second dose, three months after the first
Severely immunosuppressed people will be offered a fourth dose of the vaccine, as a booster
England's deputy chief medical officer Jonathan Van-Tam said people should come forward "the moment you are called by the NHS", to help fight the Omicron variant.
What is a booster?
A booster is an extra dose of Covid vaccine, to prolong protection.
How do I get a booster?
You can wait to be contacted, or – depending on where you live in the UK – book online, or call 119.
Extending boosters to millions more people is a "huge step-up" says, Health Secretary Sajid Javid. He said there will be more details on how people will be invited for a third jab in the coming days.
Currently, the NHS England website still says people need to wait 152 days after receiving the second vaccine before booking a booster.
Will the booster be effective against Omicron?
However, when faced with other Covid variants, such as Delta, the vaccines have still been able to reduce the risk of severe illness.
How many people have had a booster
However, there are 7.8 million people who had their second dose at least six months ago – and are therefore eligible for their booster – but are yet to receive one.
Despite 500 new vaccination sites opening since April, the rate of vaccination dropped from a peak of nearly 800,000 a day in March 2021, to under 500,000 currently.
What if I'm ill or have had Covid?
If you've tested positive for Covid, you must wait four weeks (28 days) before having the booster, counting from the date of the test.
Does the booster dose show up in the NHS app?
If you're aged 16 or over, the NHS App generates an NHS Covid Pass which can be used to prove your vaccination status in the UK or abroad (not to be confused with the NHS Covid-19 app which alerts you if you've been close to someone with the virus).
The NHS Covid Pass now also records whether users in England have had a booster dose. This will not be immediately available through the Covid Pass letter service, which will be updated in due course.
Boosters will appear on the Covid Pass in Wales from 29 November.
Which children are being vaccinated?
All 16 and 17-year-olds can now book a second dose of the Pfizer jab – this should be given at least 12 weeks after their first.
There is no vaccine currently approved for under-12s in the UK.
What about pregnant women?
The government has also highlighted the particular risks facing pregnant women. New figures show that, of the 1,714 pregnant women admitted to hospital with Covid between 1 February and the end of September, 98% weren't vaccinated.
More than 98% of those admitted to intensive care over the same period were unvaccinated.
England's Chief Medical Office Professor Chris Whitty has urged every woman who is pregnant (or planning to become pregnant) to get their jab:
"All the medical opinion is really clear that the benefits of vaccination far outweigh the risks in every area."
What are the vaccine rules for NHS staff?
All frontline NHS staff in England will have to be fully vaccinated against Covid by 1 April.
These rules only apply in England.
Vaccination is not compulsory for other people in the UK, although people who've had two doses don't need to self-isolate after contact with a positive case.
How do I book my first or second vaccine?
Which vaccine will I get?
Under-18s are currently being offered Pfizer, although the Moderna vaccine has also been authorised for use in children.
Most boosters will be one dose of Pfizer or a half-dose of Moderna, regardless of which jab you initially received.
What about side effects?
They are part of the body's normal immune response to vaccines and tend to resolve within a day or two.
Separately, a very small number of people have experienced a severe allergic reaction after receiving the Pfizer vaccine.
You should discuss any existing serious allergies with your healthcare professional before being vaccinated.
Related Internet Links
The BBC is not responsible for the content of external sites.