A tropical cyclone could hit the
Northern Territory
on Boxing Day, after much of the nation sweltered through a stinking hot
Christmas
morning.
Warnings have been issued for Darwin and its surrounds, the Tiwi Islands, as well as far-north Western Australia
BOM officials said the cyclone, if it develops from the current tropical low, is currently tracking to hit land at Dundee Beach, an hour south-west of Darwin, and could bring wind gusts of 110km/h.
Bureau of Meteorology NT manager Shenagh Gamble said Darwin isn't expected to be hit directly, but will be wet, with record rain already falling.
A cyclone watch currently extends from Point Stuart in the Northern Territory to Kalumburu in Western Australia.
"Overnight the system did now show slot of development, however it remains in a favourable environment to develop into a cyclone if it remains over water," Ms Gamble, said.
"Currently we are expecting the system to briefly develop into a category one system before crossing the coast around Dundee Beach tomorrow afternoon."
Even if it doesn't escalate into a cyclone, the system will bring more heavy rain, she said.
Over 50mm has fallen in parts of the NT in the past day with Point Stuart getting up to 150mm, including more than 70mm in half an hour.
"We can expect to see more of the same over the next few days," Ms Gamble said.
She warned driving could be dangerous, and trees and powerlines could fall.
NT Police told people to prepare and pay attention to media updates and visit
Secure NT
.
And while it's wet in the north, it is hot in the west, with temperatures across parts of Western Australia forecast to reach 42C on Christmas Day and Boxing Day.
That would make it the hottest Christmas Day since records began.
The heatwave is being driven by a high-pressure ridge pushing a west coast trough offshore, meaning that sea breezes, which would normally offset the hot temperatures, will be weak.
"Hot conditions and some gusty easterly winds will increase the fire dangers through the Perth area and all the way down to the south-west forest areas as well," BoM WA state manager James Ashley said.
"We're expecting very high or high to severe fire danger ratings."
But it's not just the west that needs to worry about the sun on December 25, with the BoM warning people around Australia of the need for protection
Around the states and territories, the UV index is expected to hit 11 or 12 — the "extreme" category.
Read on to find out what's in store for the other states and territories.
Here's what the weather is like on Christmas Day around the country's capital cities:
Much of Sydney hit 30C on Christmas Day by lunchtime.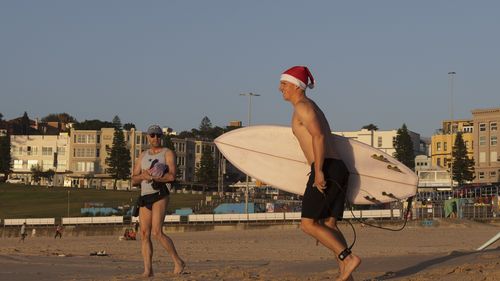 There is a slight chance of a shower in the west in the afternoon but near zero chance of rain elsewhere, except for in the outer west which might have an afternoon storm.
Light winds will become NE 15 to 25 km/h in the middle of the day.
Melbourne residents have had a cloudy Christmas morning, with temperatures hovering just under 20C.
There's a slight chance of light drizzle in the northwest suburbs this evening.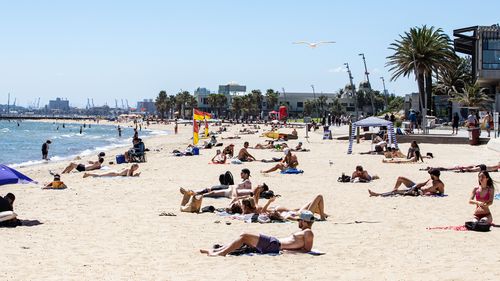 Brisbane reached 29C by Christmas Day lunchtime, but there's a high chance of showers and thunderstorms this afternoon.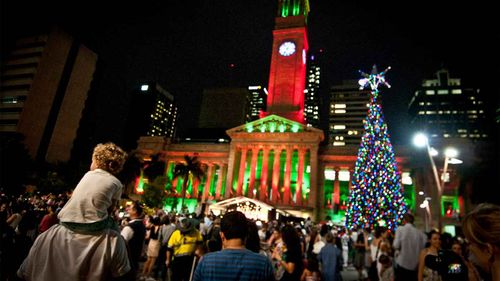 Perth is in store for a very hot and sunny Christmas Day, with a possible top of 43C.
That would be the hottest Christmas Day on record.
Just before 10am, the city had already reached 33C.
After a cloudy morning, Adelaide reached a warm 25C in time for Christmas Day lunch.
There is no rain forecast.
Winds will become gusty about the hills and southern suburbs this evening, and afternoon sea breezes near the coast will reach 25 to 40 km/h.
Showers and storms have hit Darwin on Christmas Day amid the cyclone warnings.
Temperatures just before lunchtime were 25C.
Hobart was just under 27C on Christmas Day, higher than forecast.
There's the chance of a shower later.
Winds will tend west to north-westerly 25 to 40 km/h.
The nation's capital has had a very balmy Christmas Day, with temperatures reaching 28C at lunchtime
There's a 50 per cent chance of light showers in the afternoon and early evening, as well as the chance of a thunderstorm in the afternoon and early evening, possibly severe.