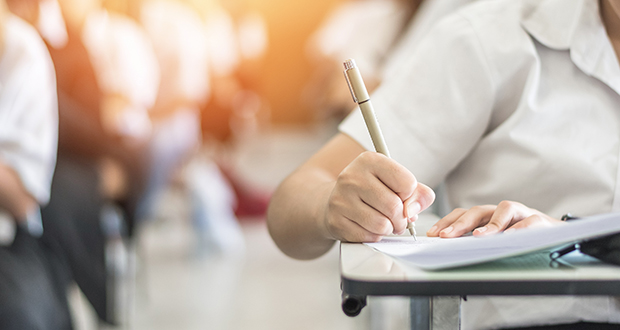 A group of doctors have protested outside the Dáil seeking the immediate resumption of the PRES Level 3 exams.
Despite significant staffing shortages around the country and 20 months into the pandemic, the PRES exams have not been reinstated, which has resulted in a group of foreign-qualified doctors to protest outside the Oireachtas.
In a letter sent to Minister of Health Stephen Donnelly, the PRES 3 candidates highlighted how their careers have been gravely affected since the PRES exams were suspended.
The letter highlighted that these doctors have been out of medical practice while waiting for the exams. This has had a detrimental effect on their career as this gap in practice may reduce their chances of being employed and enrolling on training posts in the future.
The letter also stated that the registration of other doctors from countries that are exempt from PRES has continued.
PRES exams have not taken place in Ireland since 2019, while other countries have resumed medical licencing exams. The General Medical Council (GMC) of the United Kingdom have been conducting PLAB 2 (which is the PRES Level 3 equivalent clinical competence assessment exam) safely with Covid precautions in place since August 2020. The Medical Council in Canada has organised an online alternative for its licencing exams.
Dr Apoorva Gopinath moved to Ireland in 2019 and registered to sit the PRES exams in March 2020, but due to COVID, this exam was cancelled. Dr Gopinath then registered with Be on Call for Ireland recruitment drive and as a vaccinator but was told she was not qualified for this position even though, by Indian standards, she is a perfectly qualified doctor.
Dr Gopinath also applied and passed the PLAB exams in the UK, meaning she is now qualified to practice as a doctor in the UK and in Northern Ireland.
According to Dr Gopinath, approximately 70 doctors live in Ireland, and 200 more worldwide are currently waiting to sit the PRES exams. Some of her colleagues who have been unable to work as doctors have had no choice but to work in retail and admin positions to survive.
"The whole country has now reopened, there were 40,000 people in Croke Park, you have the pubs and restaurants open, and we still receive an email saying we can't conduct the exam due to Covid. It is quite ridiculous," said Dr Gopinath.
Aontú Leader Peadar Tóibín said, "We have nearly a million people on waiting lists for hospital appointments, and we have a group of 70 doctors who are being refused entry into the health service because they haven't sat an exam. An exam which has been cancelled for the guts of twenty months. Aontú is calling for the immediate restarting of the Pres 3 exam."
The exam, which usually takes place in October and March of each year, lasts approximately four hours and are traditionally hosted by the medical schools on behalf of the Medical Council.
The Irish Medical Council has now announced "Working in partnership with the Medical Schools Council The Medical Council is pleased to confirm that the first sitting of the written element of the PRES 3 exam will take place next month in Dublin. This will be followed up by the OSCE (clinical and practical) element of the exams in the following weeks held in two locations, Dublin and Cork. The Council will be writing to the applicants in the coming days with further details of dates, venues, times and safety procedures in place."