quit: A powerful earthquake struck southern Ecuador and northern Peru on Saturday, killing at least a dozen people, trapping others under rubble and sending rescue teams into streets littered with rubble and downed power lines.
The US Geological Survey reported an earthquake with a magnitude of about 6.8 that was centered off the Pacific coast, about 80 kilometers south of Guayaquil, Ecuador's second-largest city.
Ecuadorian President Guillermo Lasso in a televised address to the nation said the quake killed 12 people.
One victim was a passenger in a vehicle crushed by debris from a house in the Andean community of Cuenca, said the Secretariat for Risk Management, the South American country's emergency response agency.
In the coastal state of El Oro, three people died and several were trapped under rubble, the agency reported. In the Machala community, a two-story house collapsed before people could evacuate, a pier gave way, and the walls of a building cracked, trapping an unknown number of people.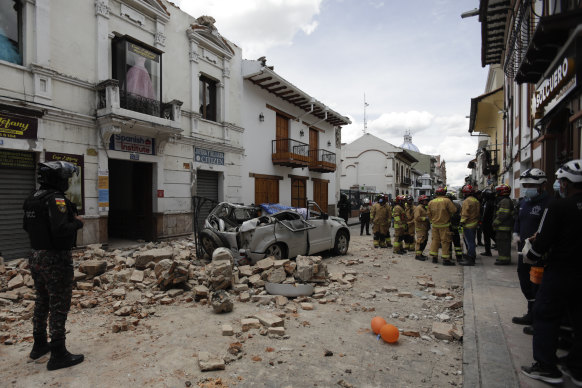 The agency said firefighters worked to rescue people while the National Police assessed the damage, their work hampered by downed lines that disrupted power and telephone service.
In Guayaquil, some 270 kilometers southwest of the capital Quito, authorities reported cracks in buildings and homes, as well as some collapsed walls. Authorities ordered the closure of three vehicular tunnels in Guayaquil, which anchors a metropolitan area of ​​more than 3 million people.
Videos shared on social media show people gathering on the streets of Guayaquil and nearby communities. People reported objects falling inside their houses.