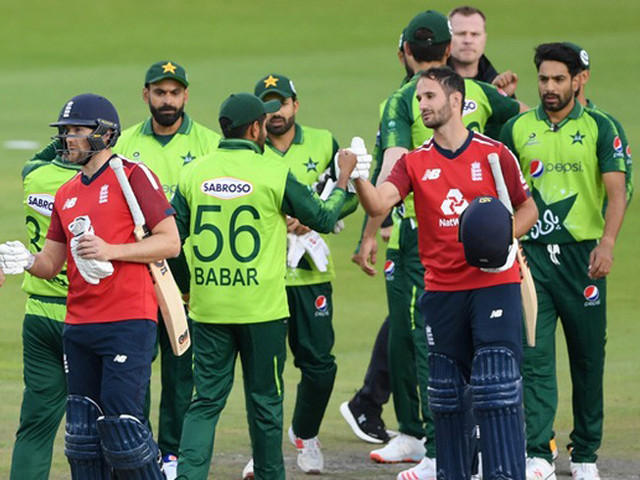 Federal Minister for Information and Broadcasting Fawad Chaudhry on Wednesday welcomed the announcement made by England and Wales Cricket Board (ECB) Chairman Ian Watmore, committing to tour Pakistan in 2022 while apologising to cricket fans for pulling out of two Twenty20 matches that were scheduled to take place in Rawalpindi next month.
"I am very sorry to anyone who feels hurt or let down by our decision, particularly in Pakistan," said Watmore, while talking to Daily Mail. "The decision the board made was an extremely difficult one and the board made it with the primary consideration being the welfare and mental health of our players and staff."
"The board took the decision based on its own judgments and it didn't go out to consultation. Had we decided to go forward with the tour we'd have had to put the proposals to the players, but it didn't reach that," Watmore added.
Read more: After NZ, England also call off Pakistan series
The ECB chairman confirmed that they have "recommitted to a proper tour to Pakistan next year" and that England will be fully prepared to handle any exceptions.
Welcoming the development on Twitter, Fawad thanked cricket stars, diplomatic community, media and cricket lovers around the world for supporting Pakistan cricket.
Announcement of ECB to visit Pakistan next year is a welcome step,I would like to thank stars of cricket world, diplomatic community, Media And Cricket lovers around the world on their support for pakistan Cricket, yet again Pak has emerged as strong and resilient nation

— Ch Fawad Hussain (@fawadchaudhry) September 29, 2021
"Yet again Pak[istan] has emerged as strong and resilient nation," he added.
England had withdrawn their men's and women's teams from next month's tour of Pakistan, citing "physical and mental well-being" of players, a decision which not only angered cricket fans and Pakistan Cricket Board (PCB) but also its own Prime Minister Boris Johnson.
"[UK] PM Johnson is understood to be angry over the ECB's decision to cancel the men's and women's white-ball tour to Pakistan next month," read a report by The Times published on Wednesday.
Also read: Atherton hits out at ECB Chairman Watmore over cancelled Pakistan tour
It added that the prime minister and senior ministers within the Foreign and Commonwealth Office believe that the decision has "damaged relations" between the UK and the Pakistan government.
ECB's announcement had also prompted the British high commissioner in Pakistan to clear the air, as he dispelled the impression the decision had anything to do with the British government or had any political motive behind it.
"The subsequent decision to ignore those pleas and cancel the tour on the grounds of the physical and mental wellbeing of the players has enraged ministers. They believe it has damaged the work being done to improve relations between the UK and Pakistan at a time when they are particularly important," it read.
The historic trip, which would have been the first-ever by an England women's team and the first by their male counterparts since 2005, was in doubt from the moment New Zealand pulled out of their own series in Pakistan over security fears.
After the cancellation of tours by New Zealand and now England, Pakistan faces the risk of further cancellations. Cricket Australia has said it is monitoring the situation, gathering information from security experts, before deciding to tour Pakistan in February and March next year. Australia have not toured Pakistan since 1998 over security fears.