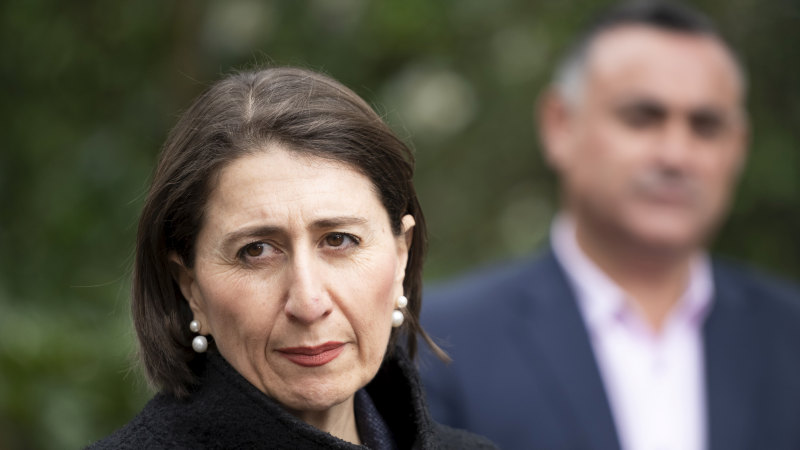 Loading
"Even something as simple as having joint cutlery on a table won't be able to exist anymore," she said. "A simple buffet won't exist anymore. A communal food bowl won't exist."
Venues will be required to ensure patrons are seated before they are served and distanced in line with a four-square-metre requirement.
It comes one week after cafes and restaurants were allowed to reopen with 10 patrons, provided they served food. However, many venues decided against reopening because the 10-person limit was not financially viable.
Deputy Premier John Barilaro said the announcement would allow regional NSW to embrace visitors when the restrictions on travel are also lifted on June 1.
"We've opened up the regions and now it's our happy hour, it's time to wine and dine," Mr Barilaro said.
Treasurer Dominic Perrottet said the announcement meant NSW was leading the nation in terms of reopening the economy.
"There are about 280,000 people employed in this sector of the economy and allowing venues to safely cater for more customers will provide another boost to business and jobs," he said.
He said the government's decision to lift the limit to 50 patrons would help save thousands more jobs than if the next limit had been set at 20 patrons.
Under the restrictions, venues will not be permitted to take group bookings above 10 people.
The government agreed to take the step after negotiating with the Australian Hotels Association and ClubsNSW.
Clubs and RSLs that have multiple restaurants, cafes or bars on site will be able to seat 50 patrons at each venue.
Claude Tropea, owner of Stanley Street institution Bill & Toni's Italian Restaurant, said the increase to a 50-patron limit would allow him to hire back four or five staff.
"It's not just the staff. We've got customers showing up these days hoping to sit and we can't accomodate them," Mr Tropea said.
"It's been very difficult, very stressful."
Hotels Association NSW chief executive John Whelan said the move was a "important and a positive step forward" for NSW pubs.
"The entire hospitality sector has been hard hit by the COVID-19 crisis with hotels shut down across NSW and 94 per cent of our workforce of 75,000 stood down or terminated," he said.
Lisa Visentin is a state political reporter at The Sydney Morning Herald.