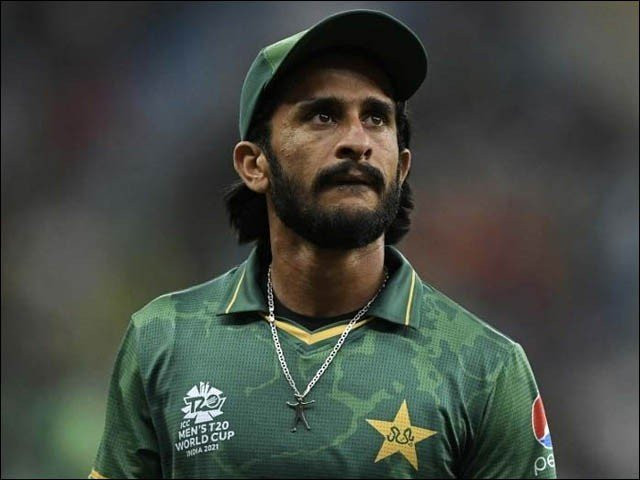 Days after heartbreaking defeat at the hands of the Aussies during the T20 World Cup semi-finals, Pakistan fast bowler Hasan Ali, who had dropped a crucial catch that allowed wicketkeeper-batsman Matthew Wade to secure a thrilling win, said on Saturday that no one was more disappointed than him.
Having conceded 44 runs in four wicketless overs, Hasan had more disappointment to face in the dramatic closing stages of the see-saw match at the Dubai International Stadium.
Read more: Wasim Akram backs Hasan Ali after costly blunder
Needing 22 runs off the second last over, Wade's wild swing at Shaheen Afridi's third ball sent a skier towards Hasan who spilled the catch on the leg-side. Wade responded by hitting three sixes in a row to complete an excellent chase against the tournament's form side.
"I know you all are upset because my performance didn't meet your expectations but no one is more disappointed than me," the fast bowler wrote on his official Twitter handle.
He urged the fans to keep their expectations from him up as he wanted to serve the Pakistan cricket at the highest level, saying that he would work harder to bounce back.
"This patch will make me stronger so Alhumdulilah," he added.
He also thanked everyone for their support, prayers, tweets and messages at a time of need.
Many including cricketers, journalists, celebrities and others backed the champion fast bowler, who played a crucial role in Pakistan's Champion Trophy triumph back in 2017.
You are a champion mere dost (my friend). You are a fighter. There are not many players in the world who can match your hard work, grit and determination. Keep the head high. We are all so proud of you," said top-order batter Fakhar Zaman.
"Koi nahi bro (no worries brother), happens. Chin up. You're a fighter. Have seen your journey from your first press con[ference] at PSL to becoming leading wicket taker in CT & from fighting back after injury, performing at domestic and once again becoming leading wicket taker. This patch shall pass," said Pakistani sports journalist Faizan Lakhani.
Sports Journalist and Analyst Saleem Khaliq said that such things happen in cricket and Hasan Ali has performed well in the past and will do in future. "Everyone is with you, be strong and don't give up," he added.
Journalist Ihtisham Ul Haq said no one was upset with him. "We are more proud of you today than before. You've fought like a warrior, the same you did in CT17. We love you and we stand by you champion! Chin up and be proud," he added.
Cricketer Anwar Ali compared Hasan Ali with a lion.
Earlier, Hasan's wife Samiya Arzoo denied reports of any threats being hurled to her family online. "Saw many tweets circulating from this fake account that I, Hassan and my daughter are getting threats from people of Pakistan, which is absolutely wrong," she wrote on Instagram.
Samiya said that instead of any threats, the family received "tonnes of support" from Pakistani fans. "Please don't believe any such statement and don't follow any accounts on Twitter pretending to be me."
She further said that she was not on Twitter and urged her followers to report the accounts claiming to be her.
Following the see-saw match, captain Babar Azam had also backed his ace fast bowler. "If the catch was taken then the scenario would have been different but it is part of the game," Babar told reporters.
"He is one of my main bowlers and he has won many matches for Pakistan. Players drop catches but he is a fighter and I will back him.
Also read: Babar Azam opens up about Hasan Ali's drop catch in Australia semi-final
"Everybody doesn't perform every day. There is a day when one performs. It was just not his day. He is down and we will lift his mood."
Former Pakistan captain Wasim Akram also offered consolation to the pacer. "What we don't want is that the whole country gets after poor Hasan Ali now. I have been through this, Waqar Younis has been through it. In other countries, it's just a game for people. Next day, you say well tried, bad luck, better luck next time, and move on," said Akram.
"This situation is as tough for the players as it is for the fans. The players will go to their rooms, they'll be quiet, they won't talk to their families and the defeat will haunt them. As a nation, we don't want to add fire to that fuel," he added.