Senior Constable Detective Steve Ingerson was awake and talking today, two days after slipping into a coma.
Ingerson was seriously injured when he was caught between a stolen truck and a police car north of Toowoomba.
"I want to sincerely thank the Meringandan Produce staff and other members of the public who came to our aid at the scene on Wednesday afternoon," Ingerson said in a statement.
"And to the medical staff at Princess Alexandra Hospital, who have been incredible.
"I want to especially thank my fellow police officers for their visits and messages of support.
"I'm grateful to have received so many well wishes from people across the community, it's been very humbling."
LifeFlight airlifted Ingerson to Princess Alexandra Hospital after receiving a blood transfusion at the scene.
He went into a coma on Wednesday and woke up on Thursday. She is expected to leave the hospital tonight.
Commissioner Katarina Carroll was one of the first to speak to Ingerson when she woke up.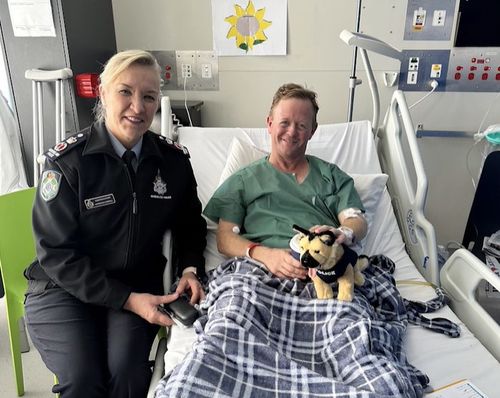 "At first, we definitely thought the worst, because it was pretty terrible," he said.
"People who know Ingo would agree with me, he's such a wonderful human being, he's funny, funny, and he has an amazing family."
"We will never recover from Wieambilla, it will be etched in our hearts and minds forever."