Like so many kids, Chris Boshuizen always wanted to go to space – since the age of four, according to his mum. And soon, albeit briefly, he's going to realise that dream.
The Sydney-born venture capitalist is believed to become the third Australian to travel into space, following astronauts Paul Scully-Power and Andy Thomas before him.
Though unlike them, he is travelling only to the edge of space, on an upcoming joy flight with entrepreneur Jeff Bezos's Blue Origin – a sub-orbital adventure just beyond the Karman Line, 100 kilometres above the mean sea level.
Blue Origin's New Shepard rocket will take off from Van Horn, Texas, 120 miles from El Paso, for a flight that lasts less than a quarter of an hour. Details are still tightly held – the trip is expected to occur in October, and there are rumours in entertainment media that 90-year-old actor William Shatner will be on board.
"It takes about four to seven minutes [to get up] – it's very, very quick," Dr Boshuizen said. "Then you're in freefall. You're in a little capsule and the capsule detaches. It floats by itself for about four or five minutes. You get to see the blackness of space and the curvature of the earth, the atmosphere and all of those things."
The capsule then lands somewhere in the desert under the guidance of its parachutes.
This is the frontier of the nascent space tourism industry, propelled by high-profile billionaires like Mr Bezos, Richard Branson (Virgin Galactic) and Elon Musk (SpaceX).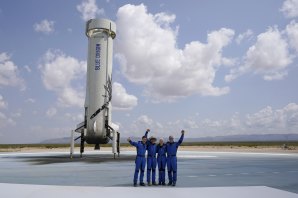 That brief glimpse of the planet doesn't come cheap. Dr Boshuizen won't talk about the ticket price, but Virgin Galactic recently opened sales for flights next year starting at $US450,000 ($618,000) a seat. He nagged Blue Origin about it for years, only to be brushed off and told to "join the mailing list". In March he finally got the call. "They said, 'hey, you've been persistent'."