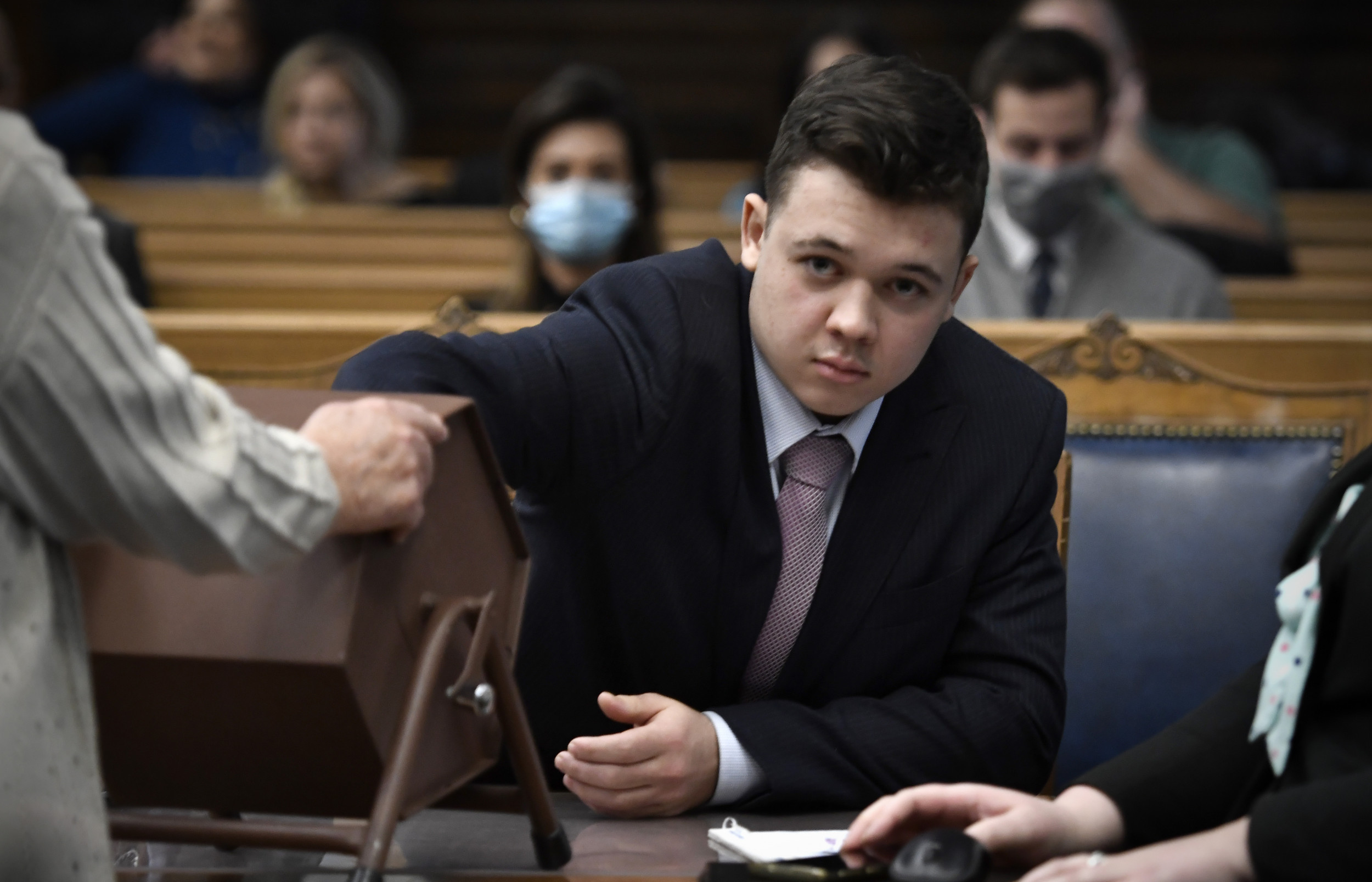 In an unusual move, Judge Bruce Schroder allowed Kyle Rittenhouse to choose which members make up the anonymous 12-member jury during deliberations. A task that is usually done by a courtroom clerk, not the defendant, the Associated Press reported.
Rittenhouse's attorney, Mark Richards, placed slips of paper into a raffle drum with the number of each of the 18 jurors who sat through the two-week trial in Kenosha, Wisconsin.
Rittenhouse then selected six pieces of paper from the drum, who the court dismissed: 11, 58, 14, 9 and 52. The jurors won't be a part of the final 12 who are deliberating the case, but remain in the courthouse until the jury returns with a verdict.
Rittenhouse, 18, faces life in prison if convicted as charged for using an AR-style semi-automatic rifle to shoot and kill Joseph Rosenbaum, 36, and Anthony Huber, 26, and wounding Gaige Grosskreutz, now 28.
Rittenhouse testified he acted in self-defense after coming under attack. He said that Rosenbaum chased him down and made him grab for his rifle. Huber was seen on video hitting Rittenhouse with a skateboard before being gunned down. And Grosskreutz admitted he had his own gun pointed at Rittenhouse when he was shot.
Prosecutor Thomas Binger argued he was "looking for trouble that night" and he repeatedly showed the jury drone video that he said depicted Rittenhouse pointing the AR-style weapon at demonstrators.
With jury deliberation ongoing Governor Tony Evers said that 500 National Guard members would stand ready for duty in Kenosha if needed.
For more reporting from the Associated Press, see below:
In his instructions to the jury, Judge Schroder said that to accept Rittenhouse's claim of self-defense, the jurors must find that he believed there was an unlawful threat to him and that the amount of force he used was reasonable and necessary.
The resulting jury appeared to be overwhelmingly white.
Rittenhouse, then 17, had gone to Kenosha from his home in Antioch, Illinois, in what he said was an effort to protect property from rioters in the days after a Black man, Jacob Blake, was shot by a white Kenosha police officer.
"This is the provocation. This is what starts this incident," the prosecutor declared. He added: "You lose the right to self-defense when you're the one who brought the gun, when you are the one creating the danger, when you're the one provoking other people."
Rittenhouse lawyer Richards said Rittenhouse was ambushed by a "crazy person" he feared would wrest away his gun and use it to kill him.