"You've got to think about all of those things."
Kyrgios notoriously races between points on serve. But just as those tactics and underarm serves are perfectly legal in tennis, Philippoussis says players must fight fire with fire.
"It's not easy, it's part of his game, he does that very well … and he does that for a reason," Philippoussis said of Kyrgios the disruptor.
"You have to find a way and whatever it may be, whether it is taking a little bit of extra time and playing in your terms. I think that's very important.
"Nick probably takes three seconds to serve every single time. If I played him, I would go to the towel, I'd put my hand up and I'd wait.
"He wouldn't like that but that's what I would do because I don't want to be rushed.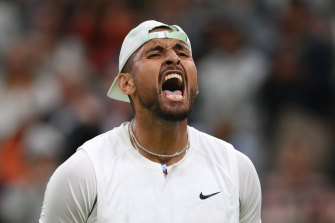 The unconventional shot-making of the Kyrgios game, combined with a powerful serve and undisputed talent have made the Australian a must-watch commodity since he burst onto the scene with victory over Rafael Nadal at his Wimbledon debut eight years ago.
Rising a rollercoaster in the sport since then, however, it's been a waiting game for Kyrgios to win the big titles to match his talent. By reaching this year's Wimbledon quarter-finals the Australian has equalled his best finish at a major.
"We all know he has the game to go all the way, that's never been the issue," said Philippoussis, runner-up to Roger Federer when the Swiss won the first of eight Wimbledon 19 years ago.
Loading
"As it gets to a later stage [at the slams], it's more about the mental and the physical part. He has got to stay focused and he's got an opportunity.
"All of a sudden, certain seeds drop off, the draw opens up. Garin is a hell of a player, he had a huge epic match against [Alex] De Minaur, it could have been an all-Aussie quarters which would be nice to see.
"He has got an opportunity, but at the same time, it's tougher to play guys when you expect to win."
Ahead of the quarter-finals, Kyrgios spoke of his personal pride in making the final eight, and how he'd matured over time.
The equation for him now compared to the heights of 2014, when he exited at the hands of Milos Ranoic after his win over Nadal, is fundamentally different.
Philippoussis said the hopes surrounding him now were undeniable.
"When he made the quarters last time, he was a raw teenager and when you are a raw teenager, you are hitting out, everything is fresh, everything is new, everything is exciting and there are no expectations on your shoulders," he said.
"It's a completely different story than where we are today.
"He has got a lot of experience under his belt and it's simple – we all know he's got the game but in grand slams, that's sometimes the least thing that gets you to win.
"It's mental and physical."
News, results and expert analysis from the weekend of sport sent every Monday. Sign up for our Sport newsletter.