Former Vice President Joe Biden sharply criticised President Donald Trump for invoking George Floyd's name as the President was taking a victory lap over lower unemployment numbers.
During remarks at the White House Rose Garden on Friday, Trump said, "Hopefully George is looking down and saying this is a great thing that's happening for our country. (It's) a great day for him. It's a great day for everybody."
Later that day, the presumptive 2020 Democratic nominee called Trump's comments "despicable".
Democratic presidential candidate, former Vice President Joe Biden speaks during an event in Dover, Del., Friday, June 5, 2020 (AP)
"George Floyd's last words — 'I can't breathe, I can't breathe' — have echoed all across this nation, quite frankly, all around the world. For the President to try to put any other words in the mouth of George Floyd, I frankly think it's despicable," Biden said, speaking from Delaware State University, a public historically black university in Dover.
The former vice president continued, "And the fact that he did so on the day when black unemployment rose, Hispanic unemployment rose, black youth unemployment skyrocketed, tells you everything you need to know about this man and what he really cares about."
Biden's remarks come hours after a new jobs report was released that showed the US unemployment rate fell from April to May and that the job market may be recovering well ahead of schedule.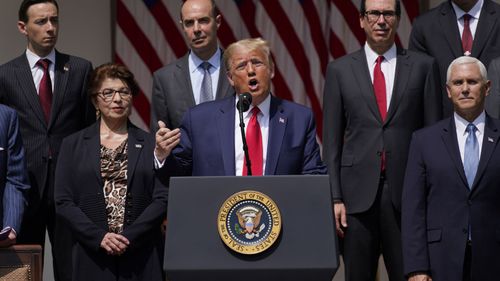 President Donald Trump speaks during a news conference in the Rose Garden of the White House, Friday, June 5, 2020, in Washington. (AP)
The President took credit for the surprising economic rebound, and called the jobs report "an affirmation of all the work we've been doing" over the course of his administration.
Biden said Friday he was "disturbed" to see Trump "crowing this morning, basically hanging a 'Mission Accomplished' banner out there, when there's so much more work to be done. So many Americans are still hurting."