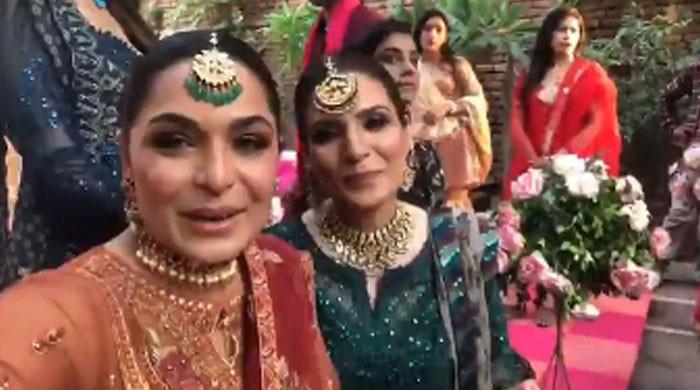 Veteran stars Meera and Resham are walking down memory lane in their new video.
The Lollywood actresses were spotted together dolled up for a shoot where Meera took time off to create a special video with counterpart Resham.
"We are working together after such a long time, it feels like we've traveled back in time,' began Meera in her clip.
She continued, "We share so much love towards one another and let me tell you, I love Resham more than she loves me," Meera confessed before laughing.
Responding to the Baaji star's comments, Resham said: "I respect Meera a lot and I pray for you."
The duo then briefly recalled their trip to Turkey back in the day where Meera used to cook for Resham.
Take a look:
More From TV&Showbiz
Hiba Bukhari worked on Geo TV's hit drama serial alongside Danish Taimoor

Rakul Preet Singh touches upon shooting 'Doctor G'

Ranveer invites fans for series of Questions and Answers on social media

Mathira addresseses rumors for all those who call her 'plastic.

Sanjay Dutt: 'They only taught us one thing and that is to respect elders'

'Best couple,' fans dub the duo

Salman Khan and Katrina Kaif are currently in Austria for the shooting of 'Tiger 3'

Shabana Azmi: 'There's nothing romantic about our relationship. But it's based on mutual respect and friendship'

Ali Zafar said, "ANNOUNCEMENT: The wait is over! After Sindhi and Baloch, time for PASHTO song!"

The latest episode of 'Khuda Aur Muhabbat', also featuring Iqra Aziz in the lead roles, have crossed 14 million views…

Esra Bilgic said "Kanunsuz Topraklar on Wednesday, September 29."

Hiba Bukhari urges fans to vote ahead of the 2021 Lux Style Awards

Nawazuddin Siddiqui's film 'No Land's Man' has been nominated at Busan Film Festival

The sad demise is announced by Hira's husband Salman Sakib

Ahsan Mohsin Ikram, Minal Khan set out on dinner date a week after wedding

'You have always showered me with your love, and I hope you do the same this time,' says Atif Aslam

'The Sky is my favourite part of life,' says Sajal Aly

Asim Azhar takes to Twitter to express his thoughts and says that the country will settle things at the T20 World Cup