Rescuers fought their way through piles of rubble and rubble to pull out bodies and free people on Saturday after two passenger trains derailed in India, killing more than 280 people.
Hundreds were injured when train cars flipped over and smashed in one of the country's deadliest train accidents in decades.
The accident, which occurred some 220 kilometers southwest of Kolkata on Friday night, created a chaotic scene as rescuers climbed on top of wrecked trains to blow open doors and windows with torches to free survivors.
Some 900 people were injured in the accident in the Balasore district of the eastern state of Odisha, said PK Jena, the state's top administrative official. The cause was under investigation.
At least 280 bodies were recovered overnight and on Saturday morning, Sudhanshu Sarangi, director of the Odisha fire and emergency department, told The Associated Press. He said more than 800 injured passengers were taken to various hospitals, many in critical condition.
Army soldiers and air force helicopters joined the relief effort along with local authorities.
Some 200 seriously injured people were taken to specialized hospitals in other cities in the state, Jena said. Another 200 people were discharged after receiving medical attention and the rest were being treated at local hospitals, she added.
"The challenge now is to identify the bodies. Whenever relatives can provide evidence, the bodies are handed over after autopsies. If they don't identify themselves, we may have to go for a DNA test and other protocols," she said.
Rescuers were going through the wrecked cars to find people who may still be trapped. Sarangi said it was possible there were people trapped below, but it was unlikely they were still alive. On Friday night, hundreds were trapped inside more than a dozen wrecked railcars as rescuers worked to extricate them.
"At 10 pm (on Friday) we were able to rescue the survivors. After that, they tried to collect the bodies," he said.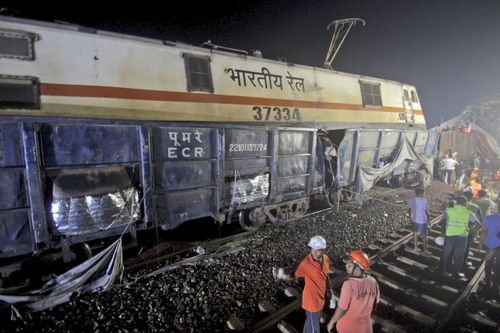 "This is very, very tragic. I have never seen anything like this in my career."
Ten to 12 carriages of a train derailed, with debris from some of the wrecked carriages falling onto a nearby track, said Amitabh Sharma, spokesman for the Ministry of Railways. The debris was struck by another passenger train coming from the opposite direction, causing up to three carriages of the second train to derail as well, he added.
A third train carrying cargo was also involved, the Press Trust of India reported, but there was no immediate confirmation of that from the railway authorities. PTI said some of the derailed passenger cars collided with freight train cars.
The death toll rose steadily throughout the night as footage showed wrecked wagons that had completely overturned. Dozens of corpses, covered by white sheets, lay on the ground near the train tracks as locals and rescuers rushed to help the survivors.
Rescue teams and police continued to check the ruins on Saturday morning as the search operation continued, amid fears the death toll was likely to rise further. Dozens of people also showed up at a local hospital to donate blood.
The rescue operation was slowed down because two train carriages were pressed down by the impact of the accident, Jena said.
"We are cutting some parts of the (wagons) and looking carefully for the survivors," he said, adding that the search operation would likely conclude later on Saturday.
Authorities said 1,200 rescuers worked with 115 ambulances, 50 buses and 45 mobile health units overnight at the crash site. Saturday was declared a day of mourning in Odisha as the state's chief minister, Naveen Patnaik, arrived in the district to meet the injured passengers.
Villagers said they rushed to the site to evacuate people after hearing a loud sound created by train carriages skidding off the tracks.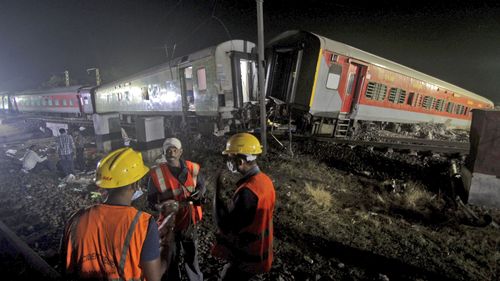 "Local people really took a risk to help us. They not only helped to get people out, but they also retrieved our luggage and gave us water," PTI quoted Rupam Banerjee, a survivor, as saying.
Passenger Vandana Kaleda said that inside the train during the derailment people were "falling over each other" as their car shook violently and skidded off the tracks.
"When I came out of the bathroom, suddenly the train tilted. I lost my balance… Everything turned upside down. People started falling on each other and I was shocked and couldn't understand what happened. My mind stopped working. she said, adding that she felt lucky to survive.
Another survivor who did not give his name said he was sleeping when the impact woke him up. He said that he saw other passengers with broken limbs and disfigured faces.
The collision involved two trains, the Coromandel Express traveling from Howrah in West Bengal state to Chennai in Tamil Nadu state and the Howrah Superfast Express traveling from Bengaluru in Karnataka to Howrah, authorities said. It was not immediately clear which derailed first.
Indian Prime Minister Narendra Modi said his thoughts were with grieving families.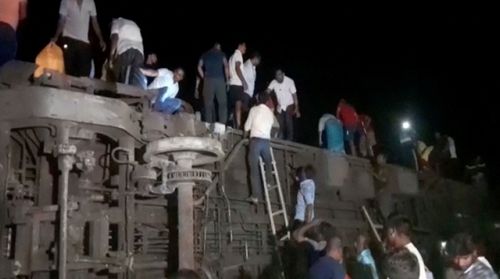 "May the injured get well soon," Modi tweeted, saying he had spoken to the railway minister and "all possible assistance" was being offered.
Ashwini Vaishnaw, India's railway minister, said a high-level investigation would take place as the political opposition criticized the government and called for Vaishnaw's resignation.
Despite government efforts to improve rail safety, several hundred accidents occur each year on India's railways, the largest single-management rail network in the world.
In August 1995, two trains collided near New Delhi, killing 358 people in one of the worst train accidents in India.
In 2016, a passenger train skidded off the tracks between the cities of Indore and Patna, killing 146 people.
Most train accidents are attributed to human error or outdated signaling equipment.
More than 12 million people travel on 14,000 trains across India every day, covering 64,000 kilometers of tracks.
sign up here
to receive our daily newsletters and breaking news alerts, sent directly to your inbox.