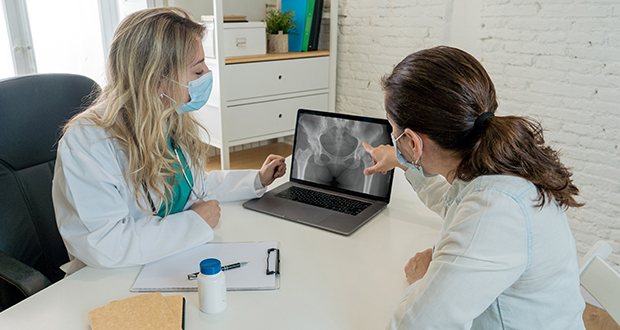 A new 'one-stop-shop' platform for gynaecological cancer information has been launched to mark World GO Day.
A new first-of-its-kind platform for Ireland providing relevant, reliable and evidence-based information for people affected by cervical cancer was launched to mark World Gynaecological Oncology Awareness Day (GO Day) on Monday September 20. The ThisIsGo.ie platform offers a one-stop-shop for helpful resources and advice on cervical cancer as part of the first phase of its development, including over 130 different articles, videos and audio content covering every stage of cancer diagnosis, treatment, and life with and after cancer.
The platform has been co-developed by the Irish Cancer Society through its Women's Health Initiative and support researchers and clinicians in UCD, in close collaboration with women and families directly affected by cervical cancer, and supported by Pfizer.
ThisIsGo.ie offers a personalised experience tailored to the stage and needs of individual users, including a specific section for partners of women who have or have had cervical cancer. It contains evidence-based information on everything from the stages of cervical cancer and a step-by-step guide for what to expect from treatment, to important parts of the journey that may often be overlooked including simple tips on preparing for hospital, and talking to children about cancer.
Today's launch marks the first phase of the innovative platform, and it is hoped to add further specific sections on other gynaecological cancers including ovarian, endometrial, vulval and vaginal cancers in future.
Gynaecological Oncologist Prof Donal Brennan, whose team developed the platform, said: "Over the last three years Irish people have become aware of the terrible impact a cervical cancer diagnosis can have on women and their families. We hope that ThisIsGo.ie will provide a safe and accurate repository of information that will empower women with cervical cancer to understand the disease and complications associated with treatment.
"This platform provides a very necessary resource for women who often struggle to access all the supports they need during what can be short and intermittent hospital visits. By taking a holistic approach it provides access to information on a wide range of subjects ranging from cancer diagnosis and treatment to emotional and physical wellbeing, practical and financial advice as well as dealing with long term side-effects of treatment such as lymphoedema, bowel, bladder and sexual dysfunction."
Anne Nally-Keenan who was diagnosed with cervical cancer in 2012 and contributed to the development of ThisIsGo.ie said: "Advances in cancer treatment are greatly increasing survival rates for patients. ThisIsGo.ie will focus on the patient, empowering the women as well as offering support to the wider family.
"Dealing with a cancer diagnosis can be debilitating for some, so having a platform to help navigate the health care system, tests, appointments, and long-term side effects is of importance to patients.
"As a cervical cancer survivor, I understand many cancer treatments come at the price of devastating and often lifelong physical and mental side effects. ThisIsGo.ie provides medical-based information within individual care plans with the aim to improve the health and wellbeing of women," she added of the platform, which has been built by Irish software firm Full Circuit (www.fullcircuit.ie).
In Ireland, in our #DareToAsk campaign we are encouraging patients to ask their doctors those questions they have been too shy or afraid to ask, says Sharon O'Toole, Trinity College Dublin and coordinator of the World GO Day activities on behalf of the Irish Network for Gynaecological Oncology, which will be launching a special podcast in conjunction with the "The Answers for Cancers Podcast" team on World GO Day to answer many of these questions that have been collated from patients, and it will also be featured on the ThisIsGo.ie platform.
Once again, people in more than 25 countries, including thousands of patients and dozens of groups of medical professionals and experts, will together support a single goal¬ raising awareness of gynaecological cancers for World GO Day 2021.
The day is dedicated to elevating public understanding of gynaecological cancers and highlighting the risk factors, symptoms, early detection and prevention strategies related to the main types of gynaecological cancers that impact women: cervical, ovarian, uterine, vaginal, and vulval.
Over 1,400 gynaecological cancers are diagnosed in Ireland annually (NCRI 2020 Annual Report), representing over 12% of female cancers. This year's message for World GO Day is simple: Information is power, but communication is the solution!
The theme for 2021 is communication between patients and doctors, represented by the main event hashtag #GOforcommunication.
"Information is power, but communication is the solution. It goes hand in hand with the very short but clear message: Talk to your doctor, do not be afraid to seek information on gynaecological cancers and to have your regular check-ups to prevent cancer. That is why #GOforprevention will be the second main hashtag of World GO Day," says Prof Murat Gultekin, who is the co-chair of the organisation that founded the event, the European Network of Gynaecological Cancer Advocacy Groups (ENGAGe).
"Awareness is important because an early diagnosis is key for good treatment of gynaecological cancers. We want people to know that having a regular check-up with your gynaecologist should be a priority. But also, ask the right questions. Be open in communication with your doctor."
"Ensure you #JustAsk your doctor about clinical trials as the number of trials for gynaecological cancer patients has expanded in Ireland" explains Dr Dearbhaile Collins, co-chair of the Gynaecological Specific Sub Group in Cancer Trials Ireland (www.cancertrials.ie).