Three flights
from
Australia
carrying food, water, medical supplies and telecommunications equipment landed in
Tonga
on Saturday, as the Pacific nation grapples with the aftermath of an underwater volcanic eruption and tsunami.
A lack of clean water was a priority because supplies have been disrupted by layers of volcanic ash and salt water.
Red Cross teams on the ground reported widespread stagnant pools of salt water that were dumped by the tsunami, polluting the clean drinking water sources of tens of thousands of people, said Katie Greenwood, the Pacific head for the International Federation of Red Cross and Red Crescent Societies.
Planes from other nations, including New Zealand and Japan, have also brought sorely needed aid to the Tongan people, said Zed Seselja, Australian minister for international development and the Pacific.
One of the Australian planes bound for Tonga was forced to return to base because there was a COVID-19 case on board.
"We respect absolutely the desire of the Tongan Government not to add a COVID crisis to a humanitarian crisis," Mr Seselja said.

The Tongan government also confirmed that while communication between the islands continues to be a challenge, limited telephone connections have been re-established along with radio communication.
International calls are now also possible from Tonga, but only in a limited capacity.
Vital telecommunications equipment needed to re-establish limited internet connection arrived on a relief flight from New Zealand, according to the statement.
Three of Tonga's smaller islands suffered serious damage from tsunami waves. The majority of Tongans live on the main island of Tongatapu, where about 50 homes were destroyed and coastlines strewn with debris.
UN humanitarian officials reported that about 84,000 people — 80 per cent of Tonga's population — have been impacted by the eruption.
Victims of the disaster identified
Two of the three people who died in Tonga's volcanic eruption and tsunami on January 15 have been named.
The names were given in an official second update from the government of Tonga.
They are 49-year-old Tongan woman Lataimaumi Lauaki from Nomuka which sustained extensive damage during the eruption and tsunami.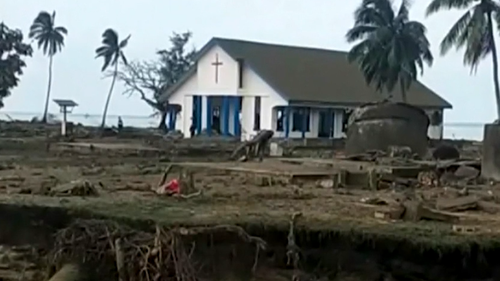 And 65-year-old Tongan man Telai Tutu'ila from Mango Island where most homes were destroyed.
The natural disaster was one of the world's most violent volcanic eruptions in decades, events that happened on the ground in
Tonga
are still being uncovered.
New footage shows cars crawling inland as rocks and ash rained down from the sky.
Stories of survival are being shared over satellite phone and social media.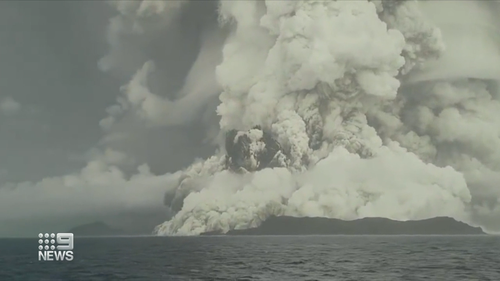 "It's a very, very difficult time for the people of Tonga. The feedback on the ground that I got today is, again, many people displaced," Australian Minister for International Development and the Pacific, Zed Seselja, said.
Some 4000 kilometres away in a warehouse in NSW, Matraville families are packing supplies for their loved ones in Tonga.
There are more 30,000 Tongans living in Australia who are coming together to help their home country.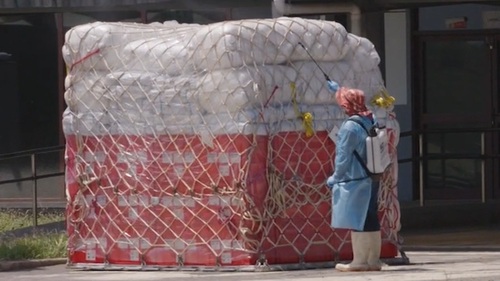 In a statement, a United Nations coordination specialist in Tonga said the "people are going to need sustained support responding to a disaster of this scale".
In the seven days since the natural disaster, foreign aid has been trickling in, but it has been slowed down because of strict COVID-safe border controls in place to prevent the virus from entering Tonga, which it is kept out so far.
At Tonga's International Airport, pallets of urgent supplies have arrived but they can't be used until 72 hours have passed since their disinfection, due to COVID-19 measures.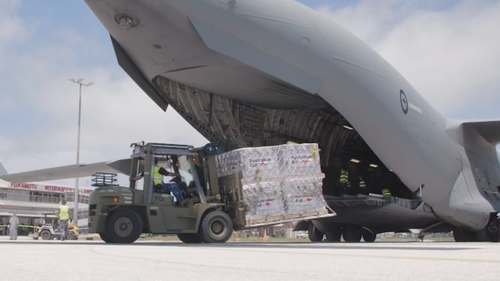 In addition to the aid, more messages of support are being sent to Tonga from around the world.
Australian rugby star Taniela Tupou, whose nickname is "Tongan Thor", said the team is "sending our love" and urged the Pacific nation to "stay strong", while Auckland-based rugby team Moana Pasifika united in song and prayers following the disaster.