The son of Westfield co-founder Sir Frank Lowy has been living in New York with psychotherapist wife Dr Margo Lowy in recent years, leaving his Sydney pile all but redundant.
The couple bought the waterfront property in 1985 for about $2 million, commissioning a pavilion-style residence with gym, pool and music studio – as befits a one-time member of The Angels rock band.
The property was first on offer for lease soon after international borders were closed because of COVID-19, at the time for $20,000 a week.
Inflation in the two years since has seen the rent rise by $10,000 a week.
Aspiring renters should contact Ray White Double Bay's Jamie McCarthy and Michael Krimotat.
Bling meets modernism
The modernist Clontarf trophy home Portovenere set a suburb high when it last sold in 2016 for $11 million. You'll need to dig a little deeper this time around, given hopes of $35 million to $38 million from Madina Tao and Mongkol Phara, of Cambodia's ruling families.
The landmark house dates back to 1961 when it was built for the late arts patron and Transfield co-founder Franco Belgiorno-Nettis and his wife Amina, and sold a year after her death in 2015.
Black Diamondz agent Monika Tu said the guide was based on a lavish makeover of recent years that involved gutting the original house and refitting the interiors with opulent Fendi, Versace and Cavalli finishes, and a floorplan that includes seven bedrooms, a day spa, home theatre, gymnasium, cellar and cheese room.
The beachfront residence with a pool and half basketball court returns to the market given the family's plans to return to live in Europe.
Darling Point's new price is right
Sandy En Xin Jan is best known among property watchers for buying the Kurraba Point mansion Glencairn for $16.5 million from Business Council of Australia president Grant King.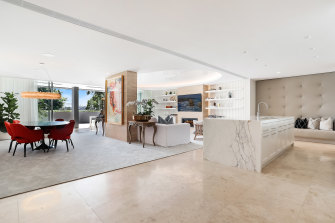 Six years later and she has paid almost as much for an apartment in Darling Point, albeit one recently redesigned with Burley Katon Halliday interiors.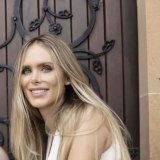 Settlement (with no mortgage) revealed the $16.2 million sale figure to Jan's corporate interests after the property was listed by Highland Property's William Manning, originally with $18 million hopes.
It was no doubt a well-timed deal for property developer Robert Pagliuso and his wife Leify, given they bought it a year ago for $11.15 million from former Qantas boss Geoff Dixon and his wife Dawn.
Jan's purchase comes as she pockets $7.75 million for a house near Mosman's Chinamans Beach sold by Monika Tu to Smartwin senior executive Yujuan Bo.
Also for sale is Jan's penthouse atop the Hordern Towers in the CBD for more than $7 million through Tu's Black Diamondz.