NSW has now administered a total of eight million
vaccinations
, as the state works towards a 70 per cent rate which will trigger the end of lockdown and is expected in mid-October.
A total of 77 per cent of the entire adult population have now received one jab while and 44.5 per cent are fully vaccinated.
In total 114,000 people were given a jab yesterday in the state and 147,000 tests were done.
Of the eight deaths, one was a person in their 30s.
More than 26,000 vaccinations were in regional NSW, Mr Hazzard said.
Since the outbreak started 42,000 cases have been recorded
The eight people with the virus who died were six men and two women.
Three were in their 80s, two were in their 70s, one was in their 50s, one was in their 40s and one was in their 30s.
All had underlying health conditions, Mr Hazzard said.
Updates will be now instead be given by video via NSW
Health
.
Ms Berejiklian said she or other ministers will give press conferences to the community "on a needs basis".
She said reporters will still see her "quite frequently".
"It may be three times a week instead of seven times a week," she said.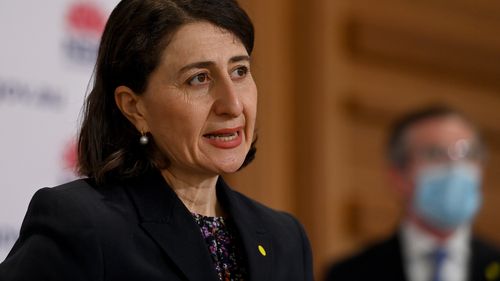 Earlier this week the rest of NSW including Greater Sydney were promised an
end to lockdown
when the state hits 70 per cent of people double vaccinated.
That day is expected to come in mid-October, around five weeks away.