Dominic Perrottet has been elected the new Premier of
New South Wales
after a party room meeting this morning.
Mr Perrottet received 39 votes, while fellow challenger, Planning Minister Rob Stokes, received five.
Mr Stokes earlier said Mr Perrottet would be a "great" premier, but is sticking by his own decision to compete for the top spot today.
Meanwhile, 9News reporter Chris O'Keefe has reported Mr Perrottet could consider bringing forward 'freedom day' to NSW to this Friday, if he becomes premier.
Speaking to Ben Fordham on 2GB, Mr Stokes, the current Planning Minister, said his decision was motivated by the desire to give MPs a choice.
"We live in a democracy, we don't live in North Korea," he said.
He refused to speculate about his chances on defeating Mr Perrottet, who remains the favourite to win the job.
"I'm always in it to win it," Mr Stokes said.
"Dominic is a great friend and would make a great leader."
Nine reporter Chris O'Keefe told Today that Mr Perrottet was all but certain to become the next premier.
Regarding the state's ongoing COVID-19 outbreak, O'Keefe said health officials would find Mr Perrottet to be a less "cautious" leader than Ms Berejiklian.
"The information I have is he will seriously consider bringing forward freedom day to NSW to this Friday," he said. 
"Pubs will open, you will be allowed to have people around to your home this Friday. He will sit down with the health official sometime this week to formalise that, but it could be the first order of business."
O'Keefe said Mr Perrottet had been "pushing to open" in the background for some time.
Whoever the new premier is will face numerous challenges in NSW, with a changing of the political guard underway as the state prepares to emerge from widespread COVID-19 lockdowns.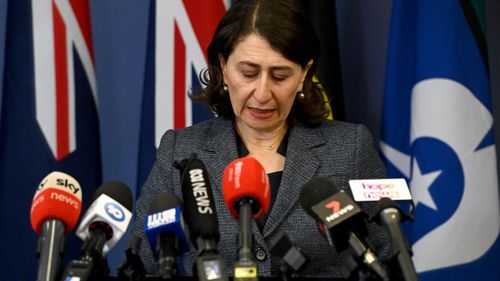 Whoever the new premier is, their early months on the job will be marked by by-elections, a Cabinet reshuffle, an untested deputy, and delicate negotiations with other states and territories on borders as
NSW's vaccination rates edge higher
.