"Petts thought he heard something inappropriate about a family member, he was a bit upset about it, the Lions have spoken to us and obviously the AFL will look at it," Melbourne coach Simon Goodwin said after the match.
"That's pretty much the details we can give at the moment. We're going to hand it over to the AFL.
"Petts was a bit emotional at three-quarter time. He went away, re-set himself and came back into the game. That's as much detail as we're going to go into today.
"Brisbane have been quite apologetic towards us, and that's the type of footy club they are. They're a very respected, humble footy club. We'll take them at their word."
Lions coach Chris Fagan said he was unsure what had happened. "Obviously something did happen, I've been made aware of that, and no doubt we'll have an investigation into it ourselves and the AFL will do the same thing."
Asked if he was concerned that his captain would be involved in such an incident, Fagan said: "It would concern me that any of our players got caught up in an incident like that, but I won't judge just yet because I don't know enough about it.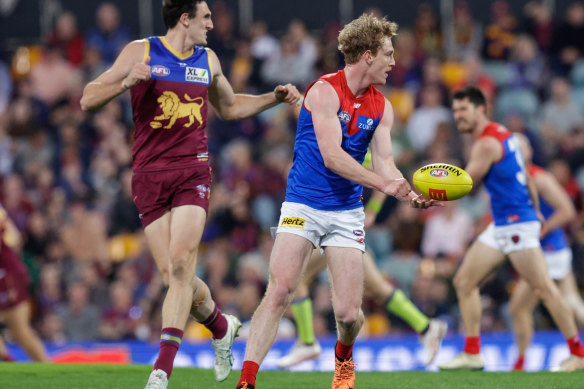 "He's very passionate about our footy club, and he would have been pretty disappointed with what was unfolding and that might have led to some frustration.
"I'd like to have a look at some vision to have a real accurate feel about it because while his leadership might not have been up to standard tonight, he's been great for us for four or five years. I'm not going to cane him for one performance where he was potentially below par."
Goodwin said he was proud of his players after Melbourne clinched a top four spot with their victory.
Loading
"The season is now done and we start another one. We've given ourselves a chance.
"We've been building the last six or seven weeks. We've been really happy with how we've been tracking and the way we are setting up our game to play finals footy.
"That was a finals-like build-up, a finals-like atmosphere and to come out and deliver, they understood what the game took."
Fagan said: "I'll be very surprised if we end up in the top four by the end of the weekend. I figure we'll finish either fifth or sixth and what we have to do now is get ready for our next challenge. There's no other choice."
News, results and expert analysis from the weekend of sport sent every Monday. Sign up for our Sport newsletter.