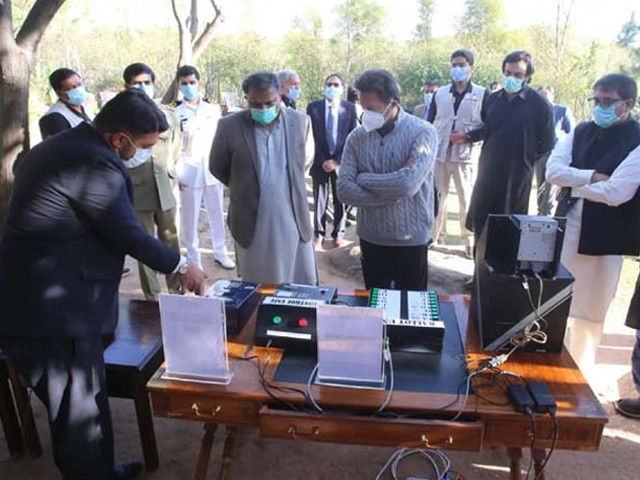 Prime Minister Imran Khan has directed to expedite efforts for embedding the latest security feature into the proposed electronic voting machine "keeping the experience of developed countries into consideration".
The directive comes after Federal Minister for Science and Technology Fawad Chaudhry on Wednesday gave a detailed briefing to the premier on the electronic voting machine, voting procedures and its various features in Islamabad.
The machine will ensure a transparent and impartial voting process, secure and immediate results of the electoral process, Fawad said. "The solution of all the issues raised in the past electoral process has been ensured during the making of the electronic voting machine."
A practical demonstration of the electoral process was also held during the briefing.
وزیر اعظم عمران خان کو الیکٹرانک ووٹنگ مشین پر بریفنگ
وزیرِ برائے سائنس اینڈ ٹیکنالوجی چوہدری فواد احمد نے وزیرِ اعظم کو کامسیٹس اور نیشنل انسٹی ٹیوٹ آف الیکٹرانکس کی جانب سے تیار کردہ الیکٹرانک ووٹنگ مشین، ووٹنگ کے طریقہ کار اور مشین کے مختلف فیچرز کے بارے میں تفصیلی بریفنگ دی۔ pic.twitter.com/zrWzKo9Rwz

— Prime Minister's Office, Pakistan (@PakPMO) March 31, 2021
The balloting machine was prepared with the joint efforts of the Science and Technology Ministry, COMSATS and the National Institute of Electronics (NIE), which has been "tested with encouraging results".
PM Imran expressed satisfaction over the working of the sample machine and lauded the efforts of the ministry.
"The government is committed to introduce electronic voting machine to ensure transparency in elections," he added.
Also read: PM Imran wants US-like electronic voting system in Pakistan
The premier said questions were raised on almost every election held in the country, which did not only "affect the electoral and democratic process but also hurt the trust of the public".
"The electoral and democratic process cannot further afford a system where the process is questionable and in which the people have lost their confidence," he said.
In light of the past experience, the prime minister said, introducing electronic voting machine will make the electoral process transparent, secured and impartial in every possible way is in the interest of the country and the democracy".