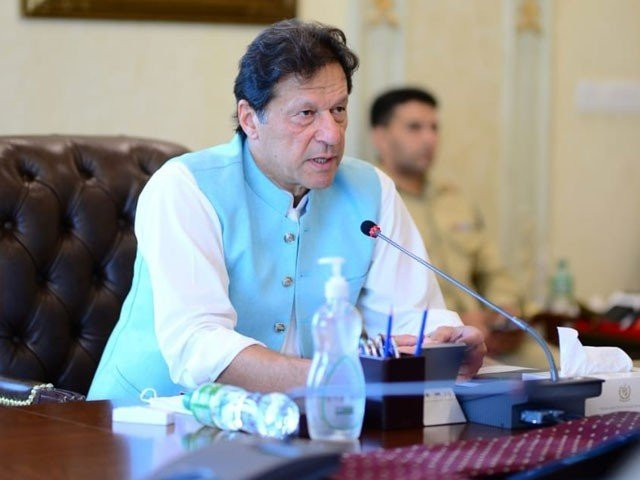 ISLAMABAD:

Prime Minister Imran Khan on Monday reiterated that the Pakistan Muslim League-Nawaz (PML-N) had a history of attacking and influencing the judiciary, saying that the political mafia could go to any extent to evade cases against them.
Premier Imran, while discussing with his cabinet members the matter of former top judge of Gilgit-Baltistan, Rana Shamim, regarding a collusion to deny bails to former PM Nawaz Sharif and his daughter before general elections 2018, said that the PML-N had a history of attacking the courts.
Sources who attended the meeting said that the premier went on to say that the PML-N was digging its own grave by involving itself in the matter.
PM Imran's comments have come after a story published in 'The News' revealed that former chief justice of Pakistan Mian Saqib Nisar had issued instructions over phone to a judge of the Islamabad High Court to keep ex-PM Sharif and Maryam Nawaz in jail till the 2018general elections, a claim which the ex-chief justice denies.
After the meeting, Adviser to the Prime Minister on Interior and Accountability Mirza Shahzad Akbar told The Express Tribune that the PML-N had once again attacked the judiciary, adding that it was yet another attempt to delay the cases.
On PML-N's cases fixed before IHC on Nov 17, the PM's adviser said that the statements from the PML-N leadership on the story appeared to be making the cases "controversial".
Read Publishing news 'most serious form of contempt'
Since the IHC had already taken cognisance of the matter, the PM's adviser said, "The attorney general for Pakistan will assist the court in the matter."
Akbar, however, was of the opinion that the top court should also take notice of the issue as such tactics to influence the courts might lead to judges refraining themselves from hearing Sharif family's cases.
Meanwhile, former CJP Nisar while talking to The Express Tribune refuted the allegation, saying it was a "blatant lie" and no such incident ever took place. Admitting that he along with his family and friends had visited G-B where Shamim had arranged a lunch or dinner, Nisar said no discussion about the Sharifs' cases ever took place.
Later on, Justice (retd) Nisar said when he had called Justice Shamim to condole the demise of his wife, judge Shamim had said that he was not given extension because of the judicial orders that CJP Nisar had passed in several cases where the judge had issued orders beyond his jurisdiction.
In one case, ex-CJP Nisar recalled that Shamim had directed an airline that it should start service between Islamabad and G-B, saying that it was beyond his jurisdiction.
Nisar said that Shamim told him that the summary for his extension was pending but it was rejected after seeing adverse remarks of the country's top judge in several cases. "The Supreme Court had no role in his appointment, re-appointment or extension but this is what he told me over the phone when I called him to condole," he said. "Neither I ever saw the summary nor was I aware that it was moved for Shamim's extension."