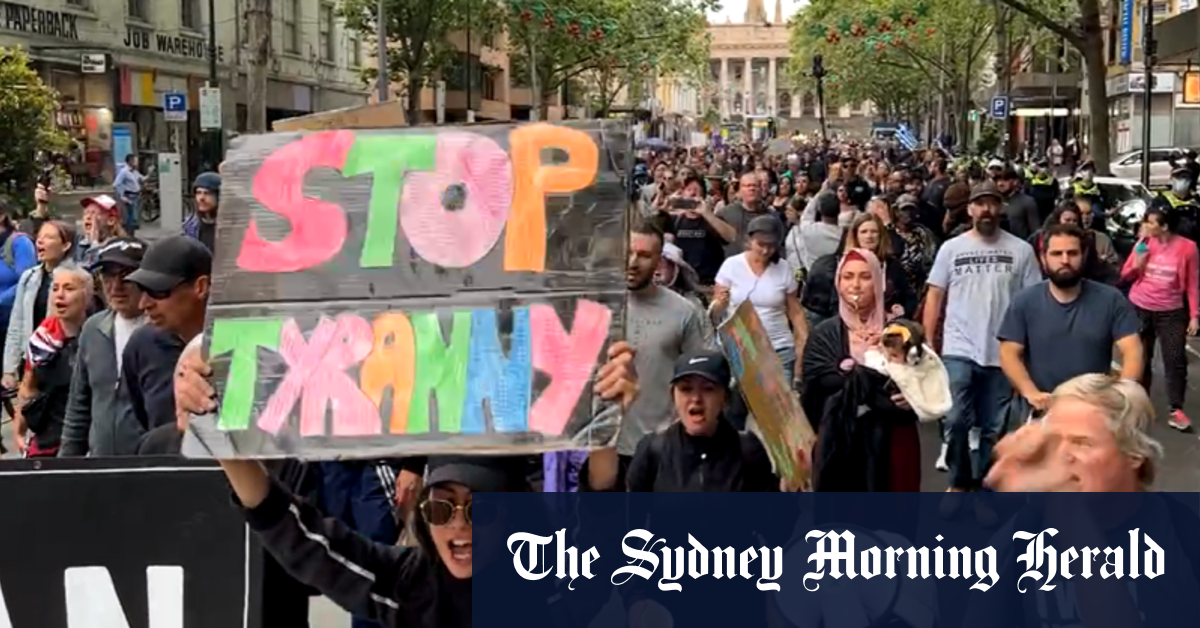 The government's proposed pandemic legislation will replace state of emergency powers that expire on December 15, curtailing the chief health officer's powers, giving the premier the authority to declare a pandemic and the health minister the role of making public health orders.
The new laws passed the lower house late last month, and will almost certainly be subject to crossbench amendments when they reach the upper house in a few days.
Mr Davis said anytime the state of emergency orders were extended beyond an initial short period, it should require the decision of both houses of parliament.
Loading
Liberal Democrat David Limbrick was among others who addressed the crowd.
"It's just until we get a vaccine, it's just schools … it's just a curfew, it's a few more months of lockdown, it's just a jab – it's your choice," he said, and was met with protesters calls of "what choice".
"It's just mandatory now – you need it to keep your job, and after next week, it's just the ability to target by race, religion, and political beliefs. It's just a two-tiered society … [and] it's not just."
The crowd chanted "it's not just" in response.
After more speakers, the hundreds of protesters marched through the CBD, with demonstrators young and old chanting "kill the bill", "sack Dan Andrews", "save Victoria", and "save our children" among other slogans.
One banner held by protesters at the front of the crowd read "Sack Dan" and "make Victoria great again". Another read "stop tyranny" and one read, "too many lies to fit on here".
Police flanked the crowd as they marched, with dozens in front of the demonstrators, and dozens more at times running alongside the hundreds of protesters.
The protest wrapped up back at the steps of State Parliament about 8pm, with police officers shepherding demonstrators off Spring Street to maintain the traffic flow.
Victoria Police in a statement described the protest as peaceful and said they made no arrests.
The Morning Edition newsletter is our guide to the day's most important and interesting stories, analysis and insights. Sign up here.