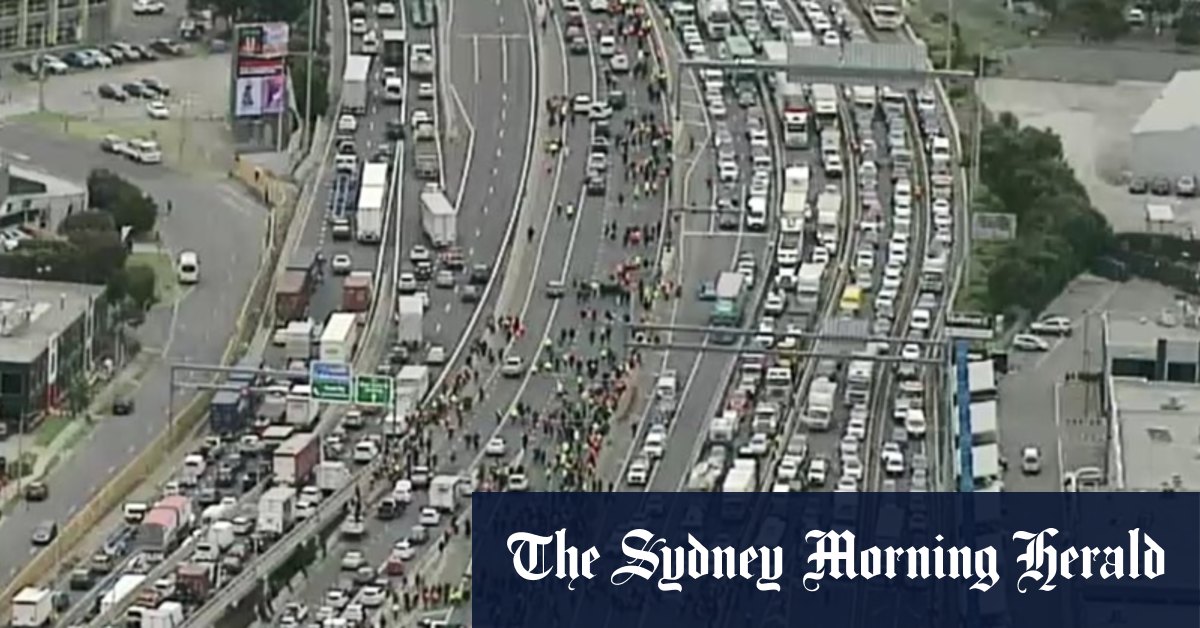 The nurses' statement does not explicitly reject that stance but it does implicitly disagree.
"Aged care nurses and carers have seen hundreds of their residents contract COVID-19 and die without loved ones with them," Ms Fitzpatrick said.
"Through it all they wear hot, bruising and uncomfortable PPE, have their breaks in an outdoor tent or the carpark and are getting vaccinated – to "protect themselves, their patients, their colleagues, loved ones and the community.
The group of protesters in Melbourne, which appeared to have swelled to thousands, clashed with police near the CFMEU offices after snaking through the city and making its way back to its starting point at the top of Elizabeth Street.
Glass bottles and other projectiles have been thrown at police.
Health Minister Martin Foley labelled Monday's protests — at which windows were smashed, projectiles thrown and rubber bullets fired by police to disperse the crowd — "deplorable" and said significant spread of COVID-19 has been linked to the construction sector, defending the choice to close the sector down.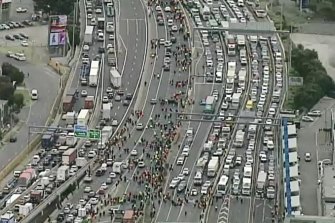 A week of COVID-safety compliance checks had found half the construction sites checked were in breach of public health orders
As they made their way on their loop around the city, the crowds met mounted and riot police on the steps of Parliament.
Loading
Once they reached Spring Street, several projectiles were thrown towards police and the group has now lit flares and is walking west down Bourke Street.
The demonstrators have sporadically broken out into chants deriding vaccine mandates and Premier Daniel Andrews.
Mr Foley said more than 400 cases had emerged among construction workers, and the industry had not responded to pleas for better compliance with COVID-safe practices.
Union boss John Setka labelled Monday's demonstration, with a mix of construction union members and far-right activists who were also involved in Saturday's anti-lockdown freedom rally, "absolutely outrageous", while former opposition leader Bill Shorten went further, dismissing agitators as "hard-right man-baby Nazis".
But while Mr Setka denied the majority of attendees were from his industry, Mr Foley said there are 403 cases of COVID-19 linked to the construction sector, with a number of cases living in the regions and working in Melbourne.
"We've referred to multiple cases seeding from metropolitan Melbourne into the regions given the highly mobile and young permitted workforce that has been in the construction sector, for the past 18 months," Mr Foley said.
"We've also reflected on poor levels of compliance with health directions and poor levels of application of COVID-safe principles and practices in multiple workplaces, big, small, and in between. Our public health team has analysed the spread in this industry of the COVID virus and how that has played into the public health team's decision to take the significant measures that it has, overnight.
"[By] their account currently 403 direct cases linked to construction, which in turn is linked to 186 construction sites, of these 186 construction sites, 151 are in metropolitan Melbourne, of these 151 Melbourne construction sites, there are 362 cases directly linked, and of those, 49 of them live in regional Victoria.
"And that's before we then measure the impact of the direct cases, through their community transmission, their household transmission, and other exposure sites."
Treasurer Tim Pallas said the decision to close down construction was not an easy one.
"It is a sad day I think in many ways, for a lot of the construction industry workers, a lot of people who've been doing the right thing, that unfortunately aberrant behaviour amongst the minority has led to a very substantial public health risk," he said, prompting the need to "take strong action, consistent with the chief health officer's orders, in order to protect the community, but also to protect those workers, their work mates, their families.
"What we are seeing as a consequence of these events is the construction industry is effectively amplifying and spreading the virus into communities, particularly in the north and the west of Melbourne but also the Southeast, and then back into other workplaces."
Mr Pallas said during inspections in the past few weeks by authorised officers, 50 per cent of construction sites had failed to meet safety requirements.
"There have been very high non-compliance rates identified. We've also seen some appalling behavior on our streets which in itself is a public health risk.
"There's been a spread of transmission from site to site, and transmission into households."
He said a permitted worker permit didn't carry "an entitlement to put the rest of the community at risk.
Loading
"It does come with an obligation and that obligation is to ensure that every Victorian … is protected by their right to be able to go about the trade which is not available to a lot of other people in this community."
Speaking on Radio National, Mr Setka said the protests were hijacked by "professional protesters" and that union members were only a small minority of those involved.
"They weren't the majority there, there was a small minority of construction workers there, some of them when it all got violent they just walked away from it. It was hijacked by the professional protesters, wherever they go, they just want to pick a fight.
"They're not even union members, they're not members of our union. And that's a disappointing thing and to see these people hurl projectiles and other people smashing in property it's just absolutely disgusting."
Mr Shorten said he believed protesters deserved to face the full force of the law.
"There is a network of hard-right man-baby Nazis, just people who just want to cause trouble, these man-babies, they want to complain about the vaccination, and it's just – they deserve to get the full force of everything that's coming their way," Mr Shorten said on Today.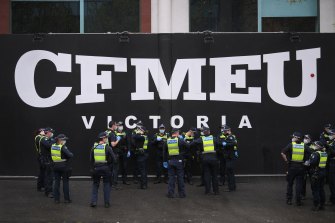 The Andrews government formally announced the two-week shutdown of the construction industry late on Monday night, less than three hours before the closure was to begin at 11.59pm.
Construction workers have been protesting against vaccine mandates in the industry and a ban on tea rooms, prompted by a number of COVID-19 cases being linked to construction sites.
Loading
Mr Setka said the union wanted the workforce vaccinated, but stopped short of supporting the government's mandatory vaccination edict.
"We're pro-vaccine, we've run radio ads encouraging our members to get vaccinated because as far as we're concerned, we think that's the road map out of this lockdown because we can't stay in lockdown for forever and a day," Mr Setka said.
"So, so we made our position quite clear but at the same time, we understand there are people, because of the misinformation or for whatever reason, are fearful of it, you know, we've got an address that you just can't just throw these people out to the wolves."
Australia's chief trade unionist, Sally McManus, said on Sunrise that encouraging people towards vaccination would work better than mandating shots.
"In areas that you have to bring in mandatory vaccinations, and it is [done] so quickly without giving people a chance to get to where we have in parts of the country – over 80 per cent [first dose] – you create a space for people to stir things up, to divide people," Ms McManus said.
All projects in metropolitan Melbourne, City of Ballarat, City of Greater Geelong, Surf Coast Shire and Mitchell Shire will be shuttered, with limited exempts for workers to attend closed sites to respond emergencies or perform urgent and essential work to protect health and safety.
Some critical infrastructure works, such as hospitals and some ongoing level crossing removal projects, will continue during the shutdown.
The union, builders and senior Andrews government officials had been locked in meetings on Monday to stop the building sector from grinding to a halt, with the CFMEU threatening to walk off major projects if a compromise couldn't be reached.
-with Ben Schneiders and Broede Carmody
The Morning Edition newsletter is our guide to the day's most important and interesting stories, analysis and insights. Sign up here.