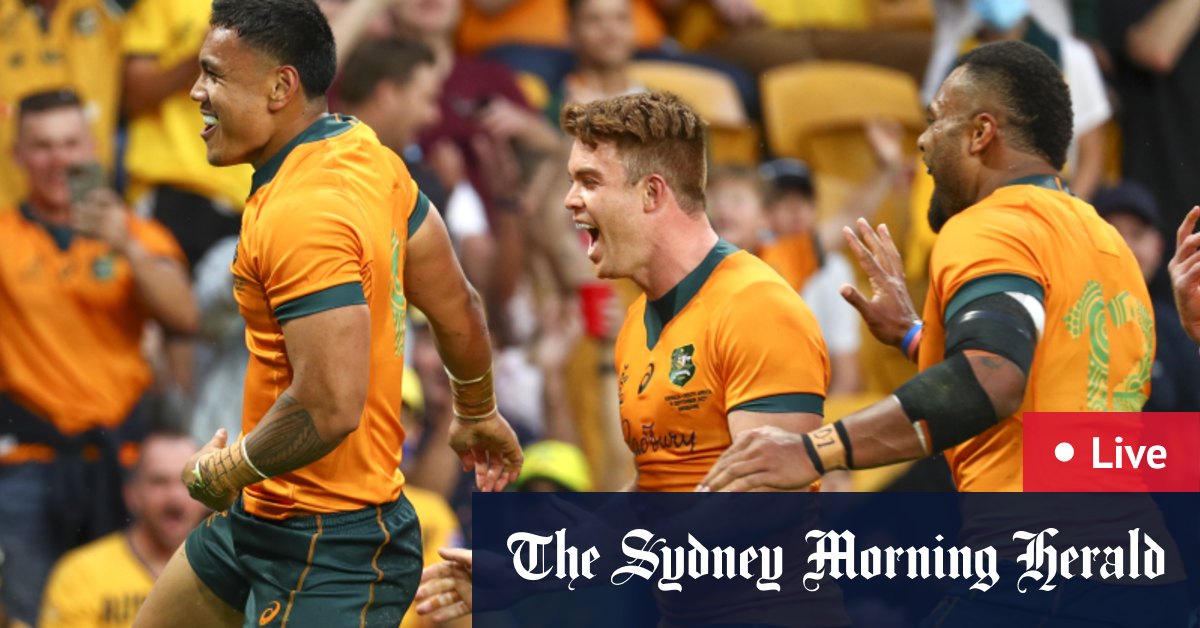 Rugby Championship 2021 LIVE: Wallabies stun South Africa 30-17, climb to third in world rankings
We're sorry, this service is currently unavailable. Please try again later.
Loading
TRY! All Blacks add another
Samisoni Taukei'aho has joined the party.
Remember what I was saying about taking three points against the All Blacks when trailing by multiple tries?
NZL 29-6 ARG after 47 minutes
I suppose you have to take points when they're on offer against the All Blacks.
But trailing 24-3, it's interesting logic.
NZL 24-6 ARG after 43 minutes
We're back under way at Suncorp Stadium.
I'm sure I'm not the only one praying for a contest in this second half.
In 120 minutes between these two teams so far, the All Blacks have barely left first gear.
TRY! Vaa'i adds another before the break
It wouldn't be an All Blacks match without a New Zealand try before the break.
Relentless pressure turned into five points for Tupou Vaa'i, giving the Kiwis a 24-3 lead at the break.
Lucky the Wallabies' win against the Springboks was an entertaining contest as this has been anything but.
TRY! Perenara scores All Blacks' second
A scrum five metres out gave TJ Perenara a running start and a perfect pass from Hoskins Sotutu hit the star halfback in stride.
He crashed through a hole on the Pumas' line and scored the try the All Blacks deserved.
Like last week, the All Blacks look a class above so far.
NZL 17-3 ARG after 28 minutes
Forward pass costs All Blacks another try
The All Blacks have played some beautiful rugby in the first 22 minutes but have now been denied two tries due to last gasp forward passes.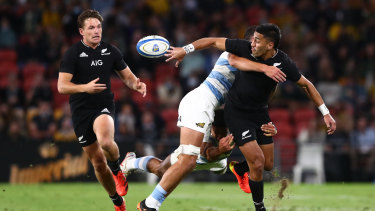 Once they find their timing, this scoreline could be anything. Ian Foster's side are in the mood for points, points and more points.
NZL 10-3 after 22 minutes
Thanks to three points off the boot of Jordie Barrett.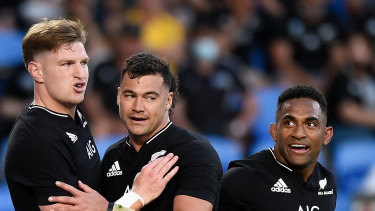 Some respect shown for the Pumas' defence there by the All Blacks, who will have a 15 point margin front of mind.
NZL 10-3 ARG after 15 minutes
Pumas respond through Boffelli
A rare infringement from the restart gifted the Pumas their first three points of the night.
Emiliano Boffelli made no mistake of the simple shot at goal.
NZL 7-3 ARG after 8 minutes
TRY! All Blacks draw first blood
That didn't take long.
Patrick Tuipulotu dived over from close range after Will Jordan went mighty close to scoring the first try of the night.
This is already shaping up as a long night for Mario Ledesma and Michael Cheika in the Pumas' coaching box.
NZL 7-0 ARG after 6 minutes
We're under way in the All Blacks' clash with the Pumas.
We'll bring you instant updates, highlights and analysis as the match rolls on.
Hopefully, the Pumas can put up more of a fight than last Sunday's monotonous defeat.