A speeding tanker has driven at crowds of people protesting in Minneapolis, with police arresting the driver moments after the frightening incident.
As it speeds towards them, people can be seen leaping out of harm's way before the truck comes to a stop.
Authorities have confirmed an investigation is underway to find out how the truck was able to get onto the bridge where the demonstrations were taking place today.
"Very disturbing actions by a truck driver on I-35W, inciting a crowd of peaceful demonstrators," the Minnesota Department of Public Safety said in tweet.
"The truck driver was injured & taken to a hospital with non-life threatening injuries. He is under arrest. It doesn't appear any protesters were hit by the truck.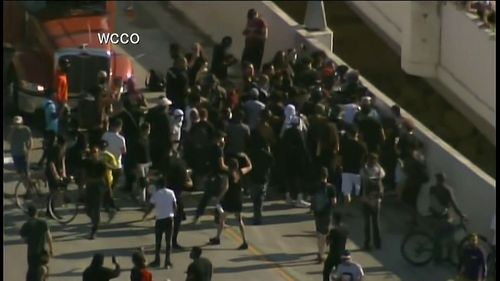 "We are working with our partners at [the Minnesota Department of Transportation] to determine how the semi got onto I-35W."