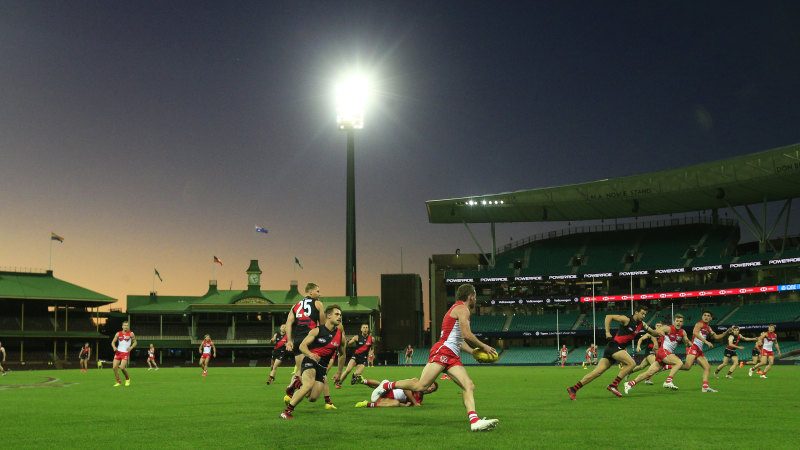 Loading
Brisbane's Suncorp Stadium is also due to host both a Queensland-NSW Super Rugby match on that Friday night and a Gold Coast-Cronulla NRL game on the Saturday of that weekend. Suncorp has a capacity of 52,000 and there is a push underway for a crowd of 10,000 to be allowed for the Friday night rugby derby. The Brisbane Lions are also due to meet Port Adelaide at the 42,000-capacity Gabba on that Saturday night.
The AFL, Melbourne Cricket Club and Marvel Stadium have been hopeful that Victoria's two main AFL venues will be allowed to be up to a quarter-full for round five, with a 25,000 crowd for the Friday night clash of Essendon and Collingwood at the MCG.
But AFL sources have indicated that a recent spike in coronavirus cases in Victoria has tempered expectations about whether crowds of that magnitude will be feasible by the first week of July.
The Swans – as well as cross-town rivals Greater Western Sydney – were granted permission to host crowds of 350 in corporate boxes at their round two home matches on Sunday.
Sydney's next home game is on Thursday week against the Western Bulldogs, but it is the round five date with Melbourne on July 5 that chief executive Tom Harley has earmarked for a possible crowd of 10,000.
"The 10,000 is obviously 25 per cent of 40,000. I'd focus more on the cap of 10,000, as opposed to the 25 per cent. We're looking forward to working – as we did last week – in the lead-up to the game against the Bombers [on Sunday], continuing to work really closely with NSW government to fulfil that opportunity for our fans, to have 10,000 at the SCG on July the fifth," Harley said.
"At this stage, the restrictions are as they are and July 1 is the milestone day. And then we are constantly in conversations with the SCG and our landlord, and also the NSW government around opportunities to bring fans into the game. We're in the process of completing a really thorough debrief of the game on the weekend, and really pleased that we're able to accommodate the small number within the restrictions that were put in place, and comfortably satisfy the social distancing requirements under the exemption of pubs, cafes and restaurants.
"We will continue to have conversations with the NSW government."
While Morrison's announcement meant crowds of up to 10,000 are now permitted, he ultimately left it up to individuals states to determine whether they implement his advice.
One concern raised by a key stakeholder in Victoria is that social distancing would be challenging to implement when people look to take public transport to the MCG and Marvel.