"This cannot continue. We must ensure that we celebrate the achievements and diversity of all in our city, and that we commemorate those who have made London what it is – that includes questioning which legacies are being celebrated."
The Canal and River Trust announced on Tuesday morning that it would remove from London Docklands a large statue of Robert Milligan, a slave owner who founded the city's once-booming West India Docks. A crane hoisted the statue off its plinth by the evening.
Thousands also defied social distancing rules to gather at the University of Oxford and demand the removal of a statue of imperialist Cecil Rhodes, which narrowly survived a campaign for its relocation in 2016. Historians claim the businessman and politician harboured racist and colonialist views and was an early architect of apartheid.
Oxford council leader Susan Brown wrote to the university's Oriel College on Tuesday encouraging them to seek planning permission to take down the Grade II-listed statue and put it in a museum.
She said the removal of a significant statue would ordinarily be allowed only "in the most exceptional circumstances".
"But these are exceptional circumstances, and as a city council we are keen to work with Oriel to help them find the right balance between the laws that protect our historic buildings and the moral obligation to reflect on the malign symbolism of this statue."
Former Australian prime minister Tony Abbott – a Rhodes scholar – has previously said Oxford should be "clear-eyed about Rhodes' faults and failings" but warned removing the statue would reflect poorly on the famous university.
Other critics of the anti-statue campaign argue the movement represents an airbrushing of history and is a distraction from Britain's deadly coronavirus emergency. 
Police are on alert ahead of major demonstrations planned for this weekend. The statue of Colston – a 17th century slave trader whose philanthropic activity has been commemorated on buildings and streets throughout Bristol – was torn of its plinth, dragged through the street and thrown into the harbour following years of debate over its future. A statue of former prime minister Winston Churchill in central London was also vandalised on the same day.
Loading
A group of activists involved in the UK's Stop Trump Coalition have now set up a website where 60 targets are identified on an interactive map.
The website, titled 'Topple The Racists', does not directly encourage the toppling of statues but suggested it was "up to local communities to decide what statues they want in their local areas".
There is particular pressure to remove a prominent statue of Sir Thomas Guy, a businessman who made his fortune selling slaves to the Spanish colonies. Guy funded the creation of the London Bridge hospital, which still bears his name.
The London mayor conceded his review into the city's statues, monuments and street names could be hampered because many are under private ownership but insisted it would create momentum for change.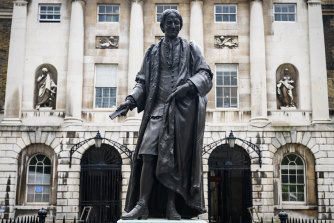 'When you look at the public realm – street names, street squares, murals – not only are there some of slavers that I think should be taken down, and the commission will advise us on that, but actually we don't have enough representation of people of colour, black people, women, those from the LGBTIQ community," he said.
Prime Minister Boris Johnson and Labour leader Sir Keir Starmer have condemned the destruction of statues.
Bevan Shields is the Europe correspondent for The Sydney Morning Herald and The Age.