Former
USA
president
donald trump
says he expects to be arrested in connection with the investigation by the Manhattan district attorney next week and has called protests as a result.
In a social media post Saturday, Trump, referring to himself, said that "the leading Republican candidate and former President of the United States will be arrested Tuesday of next week."
He cited "illegal leaks" from the Manhattan district attorney's office.
Messages left with the district attorney's office Saturday were not immediately returned. Trump's representatives did not immediately return calls for comment.
Trump did not provide any details on social media about how he learned of the expected arrest.
In his posts, he repeated his lies that the 2020 presidential election he lost to Democrat Joe Biden was stolen and urged his supporters to "protest, take back our nation."
That language evoked the then-president's message that preceded the riot at the United States Capitol on January 6, 2021.
Law enforcement officials in New York have been making security preparations in the face of the possibility of Trump being indicted.
There has been no public announcement of any timeline for the grand jury's secret work on the case, including any possible vote on whether to indict the former president.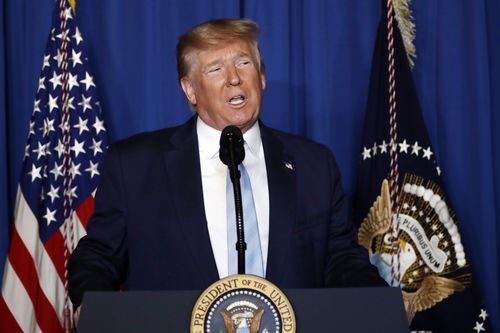 Trump's post echoes one he made last summer when he broke the story on Truth Social that the FBI was searching his home as part of an investigation into possible mishandling of classified documents.
The grand jury in Manhattan has been hearing from witnesses, including former Trump attorney Michael Cohen, who says he orchestrated payments in 2016 to two women to silence them about sexual encounters they said they had with Trump a decade earlier.
Trump denies the encounters occurred, says he did nothing wrong and has portrayed the investigation as a "witch hunt" by a Democratic prosecutor bent on sabotaging the 2024 Republican presidential campaign.
Manhattan District Attorney Alvin Bragg's office has apparently been looking into whether state laws were violated regarding the payouts or the way Cohen was compensated by Trump's company for his work to keep the allegations quiet. women.
Daniels and at least two former Trump aides, former political adviser Kellyanne Conway and former spokeswoman Hope Hicks, are among the witnesses who have met with prosecutors in recent weeks.
Cohen has said that at Trump's direction, he arranged payments totaling $280,000 to porn actor Stormy Daniels and Playboy model Karen McDougal. According to Cohen, the payments were to buy his silence about Trump, who was in the midst of his first presidential campaign.