Earlier, McManus told ABC television that employers would start renegotiating pay deals "because they'll want to negotiate those arrangements with their workers. Because if they do that, they're not caught by multi-employer bargaining".
The government secured the passage of the bill in the upper house on the weekend by striking a deal with Pocock, who agreed to support the legislation after proposing amendments designed to protect small businesses from the changes, and an annual review of JobSeeker.
The House of Representative's final sitting day descended into mud-slinging on Thursday after Burke, who is also the Leader of the House, told the lower house it would have to return on Saturday after he accused Liberal senator Michaelia Cash of trying to delay a vote in the Senate.
"In nine hours, because of the behaviour principally of Senator Cash, how many amendments do you think the Senate's got through? Zero. In nine hours. So you might want to do the maths on how likely they're trying to delay this, how long they'll try to keep this going," Burke said in question time.
Opposition Leader Peter Dutton argued the lower house could return to ratify the industrial relations bill on Friday morning, saying his party colleagues in the Senate indicated the bill would be voted on on Thursday night.
"I don't understand the theatre of coming back Saturday morning … it doesn't make any sense," Dutton said. Manager of Opposition Business Paul Fletcher then accused the government of wasting taxpayer resources.
As part of a raft of fresh reforms the government will introduce next year, Labor wants to change the Fair Work Act to make sure workers employed through labour-hire companies will receive the same wages and conditions as directly employed workers.
Burke has also pledged to legislate a system that allows base pay and conditions for gig workers, such as food delivery riders, and criminalise wage theft.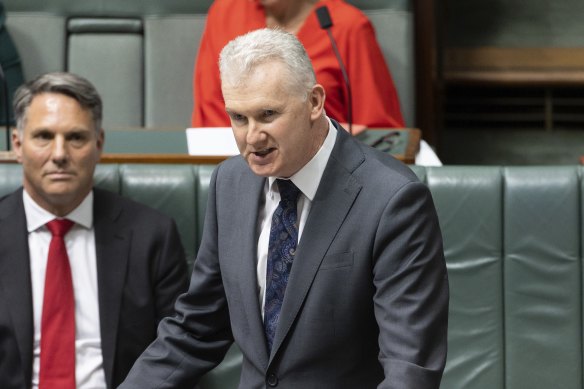 Transport Workers' Union national secretary Michael Kaine said the union had been reassured by Burke that "closing loopholes including gig exploitation is next on the agenda", adding there was no time for delay.
Loading
Business groups who had lost the fight to split the tranche of reforms in the Secure Jobs Better, Pay Bill to delay a vote on multi-employer bargaining, are treating the next suite of legislation with caution.
"Before we add another layer of complexity to our workplace relations system, we need to be very clear about the problem we're trying to solve and whether we could solve it using the existing system," Business Council head Jennifer Westacott said.
Andrew McKellar, chief executive of the Australian Chamber of Commerce and Industry, said he wanted to see "a more practical timeframe and a more engaged consultation process for any future changes to the Fair Work Act" after the government faced accusations it rushed the first reforms.
"Australia cannot afford a reworking of our industrial relations system that won't make jobs more secure, won't deliver sustainable pay increases, and doesn't respond to the mounting uncertainty of the times," he said.
His comments came after Albanese told an ACCI event on Thursday night, "I don't think one point of disagreement needs to define our every interaction. Our relationship is bigger than that, more important than that."
Cut through the noise of federal politics with news, views and expert analysis from Jacqueline Maley. Subscribers can sign up to our weekly Inside Politics newsletter here.