With each year comes a new batch of sci-fi TV delights for viewers to enjoy. From new seasons of fan favorites to brand-new shows brought to life on our many varied sizes of screens, we're never at a loss when it comes to what's on our must watch lists for the year. If you're yet to populate yours, you're in luck because we've done the hard work for you and collated our best upcoming sci-fi TV shows for 2022. Which, in some cases, is quite literally out of this world.
Whether it's new characters of the Marvel Cinematic Universe (MCU) making their TV show debut, Star Wars spin-offs, or even a fourth season of a sci-fi TV staple that you've been eagerly awaiting, there's a little something for everyone in 2022. And what a year we're having already with the likes of Apple TV's Severance, season 2 of Star Trek: Picard, The Book of Boba Fett, and Halo, to name but a few. But, there's still plenty more that 2022 has left to offer for sci-fi fans.
If you're interested in finding out about the movies that we can expect this year, we've got the best upcoming sci-fi movies of 2022 too. Whilst you're at it, the best sci-fi movies of all time are also worth diving into. For now, let's get transported to new timelines and catapulted into new realms with the best upcoming sci-fi TV shows for 2022.
Moon Knight – March 30, 2022
Release date: March 30, 2022
Cast: Oscar Isaac, Gaspard Ulliel, Ethan Hawke
From Marvel Studios' comes Moon Knight, a tale of U.S. marine, Marc Spector (Oscar Issac) who is suffering from dissociative identity disorder (DID). He finds himself gifted with the powers of Egyptian moon God, Kohnshu, to become vigilante, Moon Knight.
Every superhero needs a villain though and this MCU member is no different. Ethan Hawke plays a cult leader who encourages Marc to embrace the darkness within himself… a completely new path for the MCU. With no obvious connection to the existing timelines that we know of, Moon Knight launches a new cinematic moment for Disney Plus originals and one that addresses multiple personalities and supernatural powers.
Russian Doll (season 2) – April 20, 2022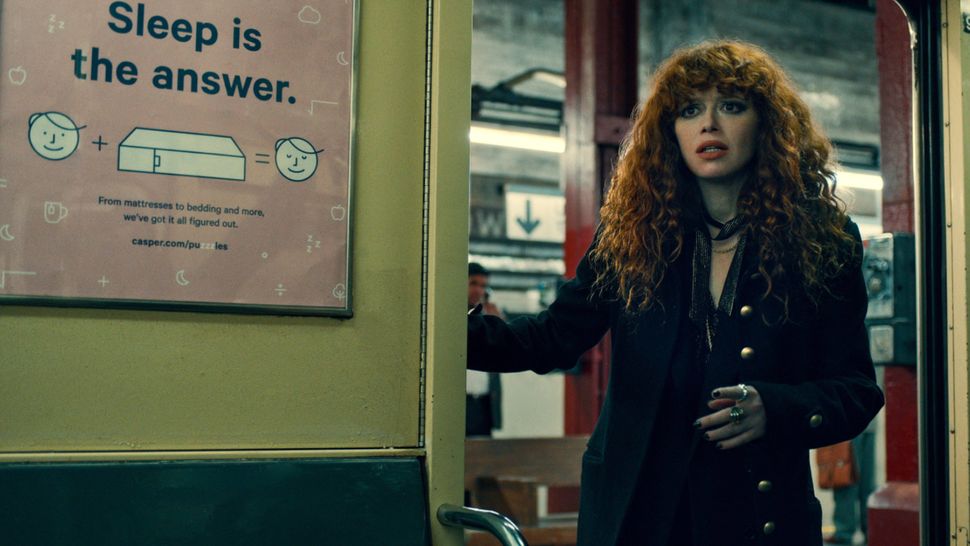 Release date: April 20, 2022
Cast: Natasha Lyonne, Charlie Barnett, Greta Lee
Think about sprinkling Groundhog Day in a dark matter, a grimy nature, and some very poignant existential moments and you've got Netflix Original, Russian Doll. New York game developer, Nadia (Natasha Lyonne) found herself stuck in a time loop, waking up at the same party and dying at the end of each night, only to wake back up all over again. 
Season one received rave reviews and left viewers on a cliffhanger, so it comes as no surprise that season two is coming in April, picking up four years after the events of the first. An interesting and unique concept with specks of sci-fi throughout. Once you've finished season one, you're going to want to check out our article on how Russian Doll's Quantum Immortality theory really works.
Star Trek: Strange New Worlds – May 5, 2022
Release date: May 5, 2022
Cast: Anson Mount, Rebecca Romjin, Ethan Peck
Star Trek really does live long and prosper, as Alex Kurtzman expands the Star Trek franchise with the upcoming TV show, Star Trek: Strange New Worlds. Coined as a spin-off from Star Trek: Discovery and a prequel to Star Trek: The Original Series, Strange New Worlds follows Captain Christopher Pike (Anson Mount) and the crew of the U.S.S. Enterprise as they journey through space exploring new worlds. 
We don't know much about it yet, but we do know it's ten episodes long and marks the newest series to an already incredibly popular franchise. Plus, the show's already been renewed for a second season, which is always a good sign.
Obi-Wan Kenobi – May 25, 2022
Release date: May 25, 2022
Cast: Ewan McGregor, Kumail Nanjiani, Hayden Christensen
If Patrick Stewart back in Star Trek didn't scratch that sci-fi itch, then how about Ewan McGregor reprising his iconic role as Jedi master, Obi-Wan Kenobi? The new Star Wars TV show positions itself in the Star Wars timeline ten years after Revenge of the Sith and nine years before A New Hope, bringing viewers a brand-new insight into the time between (check out our guide to the Star Wars movies in chronological order to fully understand where this TV show slots in). 
Aside from some concept art and the promise of "rollicking adventure", we don't know much about what we can expect from this Star Wars spin-off, but it's coming to Disney Plus on May 25. With Hayden Christensen returning too, fans can be suitably poised ready to mark this one in their calendar.
The Orville: New Horizons (Season 3) – June 2, 2022
Release date: June 2, 2022
Cast: Seth MacFarlane, Adrianne Palicki, Scott Grimes
One show we're very excited to see return is The Orville. It's been four years since Seth MacFarlane's sci-fi comedy hit screens and the show is back with a new sub-heading, new plot, and a new streaming home on Hulu. Set 400 years in the future, The Orville: New Horizons returns with old and new crew members but is still, of course, fronted by Seth MacFarlane himself as Captain Ed Mercer. 
Aboard the exploratory vessel, the U.S.S. Orville, season three promises more space adventures, both on and off the ship as the crew navigate life in New Horizons. Initially due for release in March, the show's transition over to Hulu has been delayed by a few months, but the cast promise it'll be worth the wait.
Ms. Marvel – June 8, 2022
Release date: Summer 2022
Cast: Iman Vellani, Matt Lintz, Rish Shah
Not to be confused with Captain Marvel, although Ms. Marvel is a big fan, Ms. Marvel is a superhero in her own right and comes from British screenwriter, Bisha K. Ali. Working together with Kevin Feige, the man behind every movie from the MCU since Iron Man, Ms. Marvel comes to Disney Plus in 2022. 
So, who is Ms. Marvel? Well, first off, she's Kamala Khan, a Pakistani-American teenager from Jersey City who is struggling to fit in. She then inherits incredible polymorphous powers that mean she can stretch, shrink, and manipulate her body meaning she can join the roster of the superheroes like Captain Marvel that she has looked up to. That should solve all her problems, right?
Andor – TBC 2022
Release date: Mid-to-late 2022
Cast: Diego Luna, Anton Valensi, Stellan Skarsgård
Andor, is a prequel to Rogue One: A Star Wars Story, picking up rebel spy Cassian Andor's storyline five years before the events of the film. The Andor origin story will see the role be reprised by Rogue One's Diego Luna and will reportedly follow the adventures of Cassian during the formative years of the Rebellion. 
We know that it'll be 12 episodes long, but unfortunately what we don't know right now is a specific release date. Rumors have it though that we're looking at mid-to-late 2022, with the show streaming on Disney Plus when it does arrive.
She-Hulk – TBC 2022
Release date: TBC 2022
Cast: Tatiana Maslany, Mark Ruffalo, Tim Roth
We're not short of new Marvel entries in this list already, and we're not done yet with one more from Phase Four. In this upcoming 2022 release, the MCU introduces She-Hulk to the team. If you didn't know already, She-Hulk aka Jennifer Walters' (Tatiana Maslany) origin story is, simply put, via a blood transfusion from her cousin, Bruce Banner (Mark Ruffalo) aka the Hulk. 
Whilst She-Hulk is strong like Hulk, she's also able to maintain parts of her human persona alongside her superhero powers. A valuable member of the Avengers and a recurring member of the Fantastic Four, She-Hulk almost made it to the big screen in the 90s but was scrapped. Now here we are, in 2022, eagerly awaiting her arrival on Disney Plus.
Doom Patrol (season 4) – TBC 2022
Release date: TBC 2022
Cast: Diane Guerrero, April Bowlby, Brendan Fraser, Matt Bomer
Doom Patrol from DC Comics is a superhero show with a bit of a twist. Each superhero has come to a point in their lives where they've found themselves with superhuman abilities, but only because they've suffered a horrible accident. They're an unlikely set of heroes considering they're each traumatized and outcast from society, but it sure doesn't stop them from turning their downtrodden position in the world into something hero worthy with the help of their powers. With three seasons of battles and personal discoveries under its belt, Doom Patrol returns to HBO Max for season four later in 2022.
The Sandman – TBC 2022
Release date: TBC 2022
Cast: Tom Sturridge, Gwendoline Christie, Jenna Coleman, Stephen Fry
And we've another show from DC comic books with The Sandman. By famed British writer, Neil Gaiman (Good Omens, American Gods, Stardust), comes an adaptation for Netflix. There's a lot of hype around this one as Gaiman's comic book was coined for the big movie screen in 2019, but is finding its home on Netflix instead. Taking on the titular role of The Sandman, also known as Dream of the Endless, Morpheus, Kai'ckul, is Tom Sturridge who is joined alongside a cast list full of big names. There'll be 11 episodes that adapt only the first few comic books, leaving this show open for more. There's a lot to this story that can't be unraveled in a short summary, but know that The Sandman's journey will take viewers through space and time.
The Mandalorian (Season 3) – TBC 2022/2023
Release date: TBC 2022/2023
Cast: Pedro Pascal, Carl Weathers, Giancarlo Esposito
The Mandalorian and everyone's favorite little guy, Baby Yoda, are returning for season 3. Mando (Pedro Pascal) left season 2 with some great open-ended storylines leaving viewers wanting more. Luckily, whilst we don't have a release date just yet, The Book of Boba Fett, another Star Wars spin-off, has been releasing episodes in the meantime. 
And The Book of Boba Fett aligns with The Mandalorian storyline, so much so that it's been coined as a bridge between season 2 and 3 with episode 5 featuring the man himself. It's back filming and the hopes are for a late 2022 release, if not, early 2023.
Ahsoka – TBC 2022/2023
Release date: TBC 2022/2023
Cast: Rosario Dawson, Hayden Christensen, Mary Elizabeth Winstead
Whilst we've been treated to a slate of new Star Wars content on Disney+ from The Mandalorian to The Book of Boba Fett in 2022, potentially 2023, we've also got a Mando spin-off, Ahsoka. Fans of Star Wars: The Clones Wars animated TV series are very excited to learn that Ahsoka Tano will get her own series in the ever-expanding Star Wars universe, and rightly so, as she's a badass. Rosario Dawson takes on the titular character and Jedi padawan as she embarks on her own adventures, although there's not much known about the plot thus far. We do know that Hayden Christensen is back as Anakin Skywalker in a great crossover with his appearance in Obi-Wan Kenobi. With a 2022/2023 release date, it's almost time to see what Ahsoka brings to the table when thrust into the limelight.