Thousands of people, many wearing masks, were already gathered in front of Sydney Town Hall yesterday when the Court of Appeal declared the Stop All Black Deaths in Custody rally an authorised public assembly.
The decision, overturning a Supreme Court ruling on Friday night, gave protesters immunity from arrest for blocking roads along the planned route from Town Hall to Belmore Park.
The march stretched between Belmore Park near Central Station in Sydney to Town Hall (9News)
Following the march, protesters clashed with police at Central Station.
A short scuffle broke out between officers and protesters as police tried to move forward in an underground section of the station.
At least two officers used pepper spray, with up to 30 people in the firing line.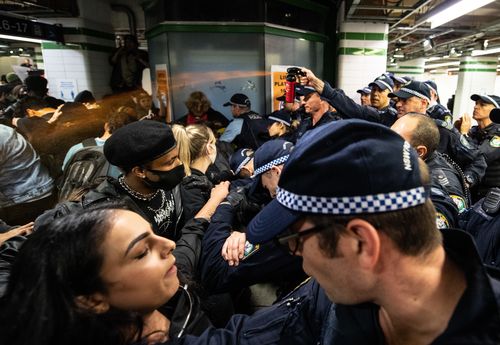 Police spraying protesters with pepper spray inside Central Station after a Black Lives Matter rally in Sydney, Saturday, June 6, 2020 (AAP Image)