A
New Zealand
driver has walked away unharmed from a dramatic crash landing when the ute he was driving plummeted into a gaping hole in a road left by
Cyclone Gabrielle
.
While driving down a hill at around 70km/h on Waikare Road near Te Kauwhata, the ground suddenly disappeared from under the wheels of the silver ute and it went into the air before face-planting straight into a newly-formed cliff face.
The vehicle had plummeted into a crater of cracked tar seal and debris which was said to be 6-7 metres wide and around two metres deep.
Tim Broughton was on the way to work with his son on Tuesday morning before their journey came to a halt when they spotted the sunken ute.
With dark hanging over the land he said the driver wouldn't have spotted the gnawed-out road which had been washed away during Cyclone Gabrielle.
"We were clearing the trees off the road while on the way to work … but we couldn't get through anyway because there was a great big hole in the road – there was nothing there, it was just a straight drop," Broughton said.
"You couldn't see the top of the ute, it was right in there, the ute was sort of straddled across the culvert, the water had just blown it out and had taken the road out with it."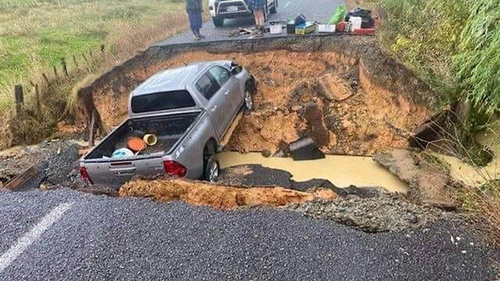 They found the driver "shaken" but unscathed by the crash landing given the vehicle's airbags had released when it hit the ditch.
"I'm pretty sure he said it was dark, and he came down the hill and straight into the hole, he said he was doing about 70km/h," Broughton said.
"He's alright, the airbags went off, and he was fine … he got out and when we got there this morning there was water running under his ute.
"It could have been a lot worse."
The vehicle, on the other hand, was a different story and would likely be written off, Broughton said.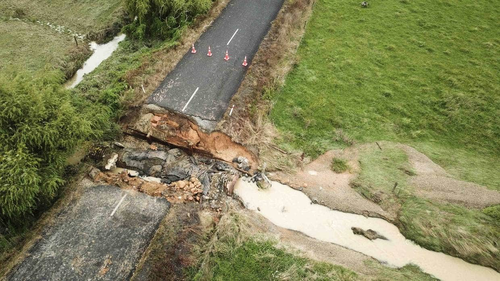 Broughton and his son got a digger and "chained it (the ute) up onto the machine and lifted it out".
"I wasn't shocked because as contractors we're used to running around and sorting trees and flooding and stuff, I've just gone and looked at a farm that had 100 trees blow over, so there's a bit of mess all over the place."
The wide hole on Waikare Road doubled travel time to work for resident Kelly Harvey.
"It is annoying because it is on my way to work," she said.
Harvey's workplace was 17.5km from her home, but now she would be travelling 35km.
Waikato District mayor, Jacqui Church, said they were "aware of the one vehicle that drove into the hole".
There was no estimation on when the road would be fixed.
They were first alerted to it at 7.05am on Tuesday.
"Crews on the ground have been heading out to assess conditions, access options and place signs as soon as practicable and safe to do so," a council spokesperson said.
"The roading team is working through a list of priorities; top priorities are to identify and restore access to isolated communities and where there are no alternative routes/detours available."
This story originally appeared on
Stuff
and has been reproduced with permission.