The Australian Nursing Federation (ANF) continues to fight for better pay despite being hit with the largest fine ever
Western Australia
Union History.
The Industrial Relations Commission fined the nurses union $350,000 for
planned strike last year
which saw more than 4,000 nurses demonstrating in front of state parliament for better pay increases.
Despite the fine, the union says they are not giving up in the fight for a five percent wage increase, as the state government stands firm on a lesser three percent increase.
"Ending ANF does nothing to improve the workloads and conditions that nurses and midwives in WA are undertaking every day," ANF Secretary of State Janet Reah said.
Shane Love MP said the protests were a reaction to the government's ignoring of the Nurses Union.
"What we saw was the frustration of nurses caused by the government not wanting to deal with them in good faith," Love said.
Reah was personally fined $10.00 in connection with the protest.
"I don't know what they think they pay me, but I don't have $10,000 lying around," he said.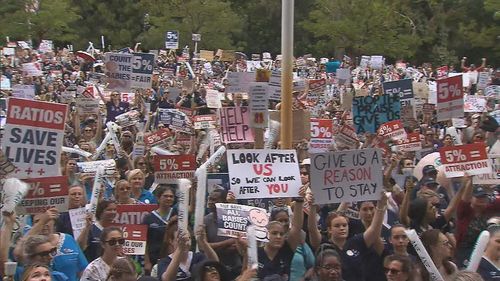 Reah says the nurses union doesn't want to challenge the state industrial watchdog and would rather work with them to negotiate the raise.
"We are changing the tact a bit and looking at clauses within the EBA that we can modify to get the monetary figure we need for nurses and midwives."
ANF ​​said that they had no further attacks planned in the near future.
sign up here
to receive our daily newsletters and breaking news alerts, sent directly to your inbox.