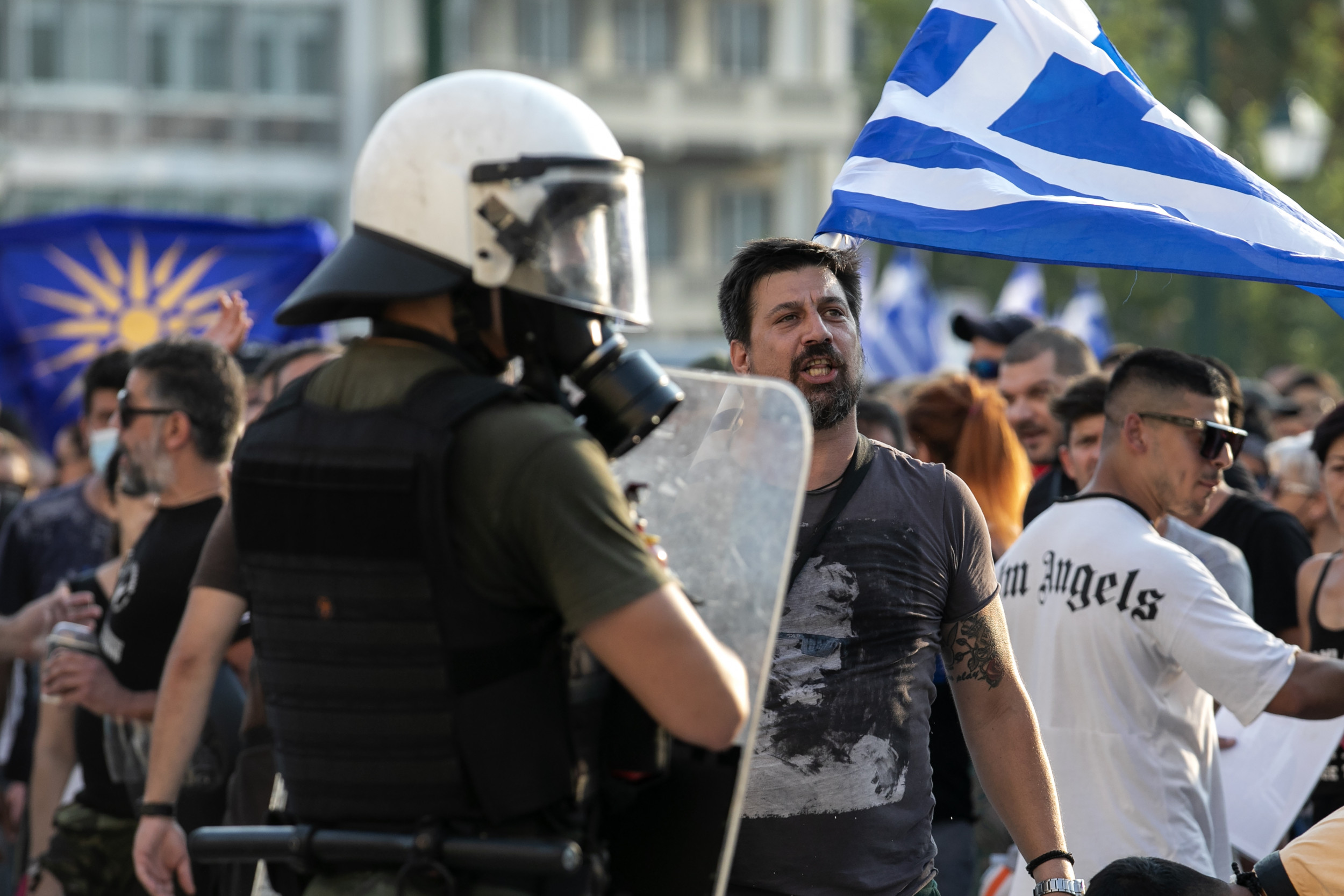 Police on Wednesday used water cannons and tear gas on a gathering of demonstrators in Athens, Greece, protesting the government's COVID-19 vaccine requirement, the Associated Press reported.
Workers who do not follow the order, which would require all employees of nursing homes and care facilities to be vaccinated by the middle of August, could face suspension without pay.
Hours after the Greek government submitted the bill, protests began outside of the parliament building. After demonstrators tried to break through a police cordon, police began firing the tear gas and water cannons at the crowd.
A second protest in Greece's second-largest city, Thessaloniki, also drew several thousand people.
For more reporting from the Associated Press, see below.
Utah on Wednesday recorded its highest number of people hospitalized due to COVID-19 in five months as the virus surges among unvaccinated people.
State health officials renewed their pleas for people to get vaccinated as Utah intensive care units reached 81.5 percent capacity. There are 295 people who are hospitalized due to the virus in the state, the highest since February.
Utah has averaged about 622 confirmed cases per day over the last week, about triple the case rate the state was experiencing at its lowest point in early June.
State health data shows the recent surge is almost entirely connected to unvaccinated people. About 66 percent of adults in Utah have had at least one dose of the vaccine and 60% are fully vaccinated.
In North Dakota, where COVID-19 vaccination rates are among the lowest in the country, three doctors who specialize in reproductive health appeared in a virtual town hall Wednesday to dispel misinformation about the effects of vaccines on fertility and pregnancy. They vouched for the safety of vaccinations for couples who want to have a baby urged people to seek out their doctors or nurse practitioners with any questions.
"I can understand that people are scared, people are nervous," said Dr. Stephanie Broadwell of Sanford Health in Fargo. "I think sometimes there can be information that can be helpful and some that can be misleading. We don't have to 100 percent agree on everything we're speaking but that counseling is very, very important."
In Russia, a total of 33.6 million citizens, or 23 percent of the country's population, have received at least one shot of a coronavirus vaccine.
That's according to Russia's Deputy Prime Minister Tatyana Golikova, who says some 22.6 million, or 15 percent, have been fully vaccinated among the population of 146 million. On Wednesday, the coronavirus task force reported 23,704 new infections and 783 confirmed deaths.
The Russian authorities have struggled to ramp up the country's low vaccine uptake as coronavirus infections surged in recent weeks. Russia's daily number of cases more than doubled, going from about 9,000 in early June to more than 25,000 in mid-July.
Faced with the soaring infections and deaths, officials in more than 30 Russian regions made vaccinations mandatory for certain groups, such as those employed in health care, education, public transportation or the services sector.
President Vladimir Putin, who said last month that he doesn't support mandating the shots, urged officials on Wednesday to ramp up the immunization drive by convincing people that vaccinations are necessary.
"It shouldn't be imposed (on people), but you need to explain," Putin said.
Russia's state coronavirus task force has reported more than 6 million confirmed coronavirus cases and a total of 150,705 confirmed deaths in the pandemic. However, reports by Russia's state statistical service Rosstat suggests a tally much higher.