In other words, the study found that a girls' school provides the environment for girls to develop and maintain innate confidence and healthy self-belief. And it is confidence, or a lack of confidence, that is frequently attributed to the under-representation of women in senior leadership roles.
Let's be clear — girls aren't innately less confident or assertive than boys, they aren't less capable in maths and sciences and they certainly don't have more body image or mental health issues than boys as infants. It is our patriarchal society that stereotypes women diminishing their self-belief and self-efficacy, quashing their voice and ultimately, their power.
A girls' school turns the tables on gender stereotypes, and this can be life-changing for a girl.
Girls' schools provide significant leadership opportunities — 100 per cent of the leadership positions (not just 50 per cent) are held by girls. The power of mentoring and role modelling provided by past students, and the predominantly female leadership of girls' schools, provides girls with leadership development opportunities beyond those available in co-ed schools. With no requirement to cater to boys, girls' schools balance the inequality in broader society through purposeful, targeted education.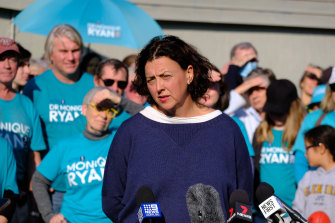 Data from a US study shows that girls' school graduates are more likely than co-ed school counterparts to be involved in political activities, demonstrate social and political agency, and be supportive of societal improvements. They are more likely to be change-makers.
Research shows unequivocally that girls thrive in an all-girls environment; they do better academically, socially, and emotionally. Regardless of socio-economic factors, data — not just from a single study but from a plethora of unique studies from all over the world — indicates that girls simply do better in girls' schools.
Loading
Girls in co-ed schools tend to be more self-conscious and less confident; they are less likely to speak up in class, ask questions or take on a leadership role. They are also more likely to have a negative body image and considerably more likely to experience sexual harassment or bullying. In contrast, girls in girls-only environments participate more freely in discussions, are more competitive and take more healthy risks with their learning — skills that are advantageous for life success.
Girls' schools are at the forefront of gender equality, deliberately challenging gendered norms and purposefully building girls' confidence, conviction and self-belief, making sure that girls have the skills and knowledge to speak out and to break down barriers.
These are skills our new female MPs will certainly need as they step into the male-dominated Parliament House, famed for its sexism and misogyny. May their voices add power to changing that culture and progressing the ongoing fight for a more equal society.
Loren Bridge, executive officer, Alliance of Girls' Schools Australasia