Wild winds have brought down trees and power lines across Victoria, leaving thousands without power, people trapped inside their homes and some towns completely cut off.
Police received hundreds of calls reporting fallen trees blocking roads overnight, particularly from residents near the Yarra Ranges and Dandenong Ranges.
"Trentham is totally isolated with no roads in or out," Victoria Police spokeswoman Sergeant Julie-Anne Newman said told 3AW. "Ballarat, Trentham, Ballan, Gordon don't have any power and Daylesford."
"Our message to motorists really is to please be vigilant on the roads," she said. "If you don't need to be on the roads today, please, please don't drive in this extreme weather."
At 6.30am, Emergency Victoria had listed 2018 separate incidents and 44 warnings as flood and winds bombarded eastern Victoria.
The awnings on department store David Jones on Bourke Street have reportedly been stripped off by the wind.
Sergeant Newman said the damage was so widespread and extensive that emergency services were having trouble reaching people injured in the storm.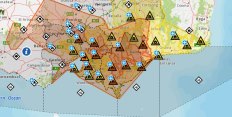 "A lot of the roads are blocked and police can't even get in there," she said.